Kampala, (URN)
Gulu University officials has exhibited Covilyce 1, an indigenous herbal medicine used in the treatment of COVID-19, at the ongoing East Africa Trade Expo in Tanzania.
Covilyce 1 herbal medicine was created by scientists at the Faculty of Biotechnology and Pharmaceutical Studies (Pharm-Biotech), backed by over 200 herbalists from the Acholi sub-region to treat COVID-19. The drug, they say, can cure COVID-19 patients within 72 hours of administering.

The 10-member team led by Dr Alice Lamwaka, the scientist behind the Covilyce 1 concoction, also a senior lecturer at the Faculty of Medicine, left the country aboard a University bus on November 30, and arrived at the trade fair ground on December 1, after a 15-hour journey.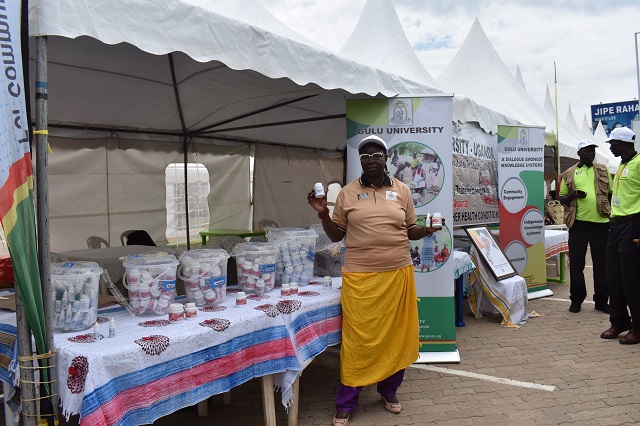 Dr Lamwaka told URN that they decided to take their products to the Expo because it's an opportunity for them to showcase their discovery and expand their market. She said that Covilyce 1 formula which is indifferent packages sold at 30,000 and 50,000 Shillings has been tested to cure Covid-19. The herbs come in form of powder, nasal drops, rectal suppositories, and syrup, formulated from eight different herbs.

Dr Lamwaka earlier explained that patients whose infections have gone to their chest use the syrup which goes down through the systemic circulation. Those with co-morbidities, COVID-19, hypertension, asthma, ulcers, and diabetes, use the powder in combination with the linctus and nasal drops and cut off viral infection within 12 hours. Then patients who are unconscious, can't swallow, are on oxygen, or have difficulty in breathing, use the suppository which is administered via the rectum.
Covilyce and Covidex
The National Drugs Authority-NDA, approved the use of Covilyce and Covidex, another herbal concoction as part of the supporting treatments for COVID-19. But Covilyce scientists still pound the herbs using mortar and pestle, rudimentarily methods because they don't have a grinder and manually pack the herbs because they don't have a production line.

Apart from Covilyce, the team is also exhibiting other herbal remedies made out of indigenous herbs to treat sickle cell, sexually transmitted infections, and diabetes in patients.
James Onono Ojok, the University's Assistant Public Relations Officer told URN that the Expo which commenced on Thursday, December 2 and planned to end on December 12, is intended to promote quality and innovation to enhance East Africa Community Micro, Small, Medium Scale Enterprises competitiveness and post Covid-19 recovery.

The fair, formerly known as the EAC JuaKali/Nguvu Kazi, brings together East Africa's six partner states that include Rwanda, Burundi, Kenya, Uganda, South Sudan and hosts Tanzania for purposes of opening up new market frontiers for their products while bridging the knowledge and technological gaps between them, and promoting the regional integration process.

Overall, the exhibition aims to support 800 enterprises from all partner states to develop new regional channels, increase their market reach and gain insights so as to better position themselves for growth in the coming years.