Investigative Journalist Muganga Brian Kivumbi of News 24/7 and Brian Membe Mubiru of Bukedde TV were assaulted on Thursday while covering a court case in Nabweru.
According to Kivumbi, they were attacked by one of the plaintiffs identified as Joseph Muyinza and his lawyers led by Edgar Kakoma of Bloom advocates after the court proceedings at Nabweru Magistrate Court in Nansana Municipality Wakiso district when the Duo were filming at the court premises.
"Immediately the Court proceedings ended, we run out of court to record the complainants who were leaving the premises but in the process one of plaintiffs known as Joseph Muyinza grabbed the camera away from me and he starting fighting me. He was followed by his lawyers who held me, removing one of my buttons from my shirt. In the process the camera was damaged" Muganga said.
In a video recording, one of the lawyers who also participated in the beating was heard saying that they will not pay for the damage caused to the journalist's camera.
"We are not going to pay for anything," the lawyer says in the video
Muganga Brian Kivumbi has since reported the case to Nabweru Police station and a case of "Malicious Damage and Assualt" opened against the group of errant plaintiffs and their lawyer.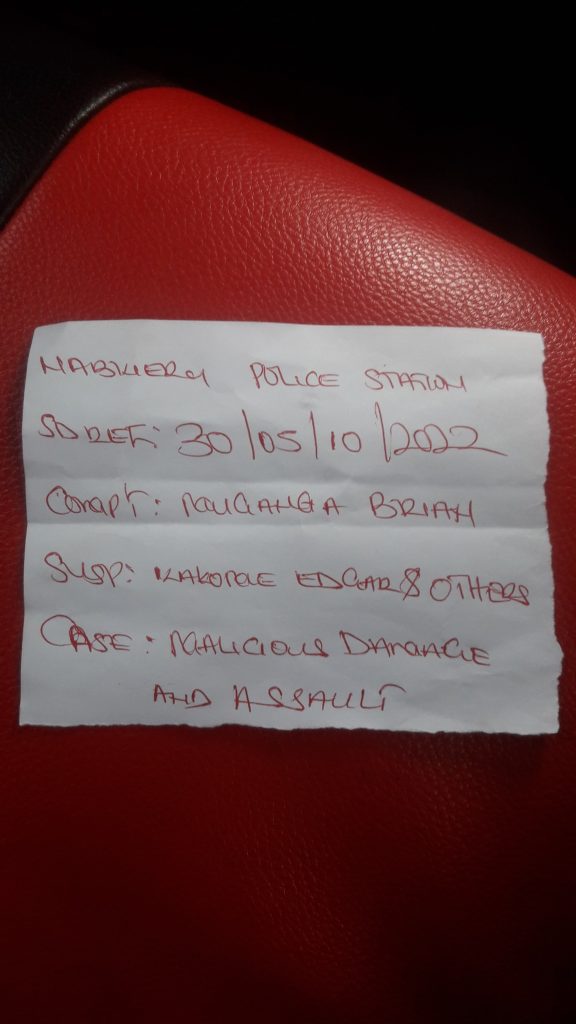 News 24/7 Managing Director Daniel Lutaaya expressed disdain at the actions of this plaintiff and his lawyer.
"Court should be a safe space for journalists, a place where the law is upheld, the fact that journalists are now being beaten right at the court, is absurd. It is even worse that a lawyer someone I expect to be knowing the law joined in on beating our journalists" he said
Lutaaya further condemned the assault of the journalists
"We condemn in the strongest terms possible the assault on our journalist Brian and the journalist from Bukedde, No journalist should be beaten while doing their work and we shall follow up this case to its logical conclusion. We have alerted our legal teams already and they are preparing our legal way forward on this matter as we corporate with the police to handle our criminal case with utmost urgency" Lutaaya added