Argentina's loss in it's 2022 World Cup Opener against Saudi Arabia is one of the greatest World Cup upsets of all time. Argentina had not lost a single game since July 2019 in any competitions and that was against Brazil.
This happens to be the second time in their history to lose a World Cup game after leading at halftime since 1930 against Uruguay.
Seven-time Ballon D'or winner Lionel Messi converted a penalty in the 10th minute getting an early lead only for Saleh Al-Shehri to cancel it out 3 minutes into the second half to make it 1-1.
Seven minutes to the hour mark, the underdogs Saudi Arabia took the lead courtesy of Salem Al- Dawsari making it 1-2.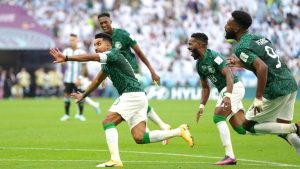 Saudi Arabia's short-stopper, Mohammed Al Owais put up a man-of-the-match performance after making five great saves to deny Argentina's first win in the 2022 World Cup.
This happens to be Lionel Messi's 4th World Cup and he is having his last dance in the World Cup at this tournament.
Starting XI
Argentina
Messi, Gomez, Di Maria, Otamendi, E. Martinez, Tagliafico, Paredes, De Paul, Lautaro, Nahuel Molina, Romero
Saudi Arabia
Salman Al Faraj, Yasir Al Shahrani, Salem Al Dawsari, Saleh Al-Shehri, Mohammed Al Owais, Mohammed Kanoo, Ali Albulayhi, Abdulelah Al-Malki, Firas Al-Buraikan, Hassan Tambakti, Saud Abdulhamid
Other matches in the World Cup today 22nd November 2022
Denmark Vs Tunisia 4 PM
Mexico Vs Poland 7 PM
France Vs Australia 10 PM
Tomorrow, 23rd November 2022
Morocco Vs Croatia 1 PM
Germany Vs Japan 4 PM
Spain Vs Costa Rica 7 PM
Belgium Vs Canada 10 PM