The Uganda Premier League match between Sc Villa and Wakiso giants FC on November 11, 2022 at Muessa II Stadium, Wankulukuku where SC Villa which involved protests from fans, the Federation of Uganda Football Association (FUFA) has ruled that the Villa games will be played in Lira, a neutral ground.
On that fateful day, fans protested against the match officials by not allowing them access the dressing rooms and the Wakiso giants' team doctor stoned by a SC villa fan.
The FUFA Competitions Disciplinary panel sanctioned the jogoos for breaching Article 31 of the FUFA Competitions Rules. The 16 times record league champions were immediately deducted 2 points and two goals from those already accumulated by the club. They were asked to host their next five home games outside Central and Buganda region.
SC Villa plump for Akii Bua stadium, Lira which doubles as a home for the league debutants in Blacks Power FC.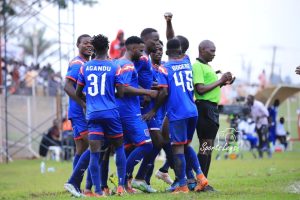 KCCA FC visits SC Villa on match day nine of the StarTimes Uganda Premier League 2022/23 at Akii Bua Stadium, Lira.
The two teams are the most successful football clubs in Uganda with SC Villa at 16 league titles and KCCA FC at 13.
KCCA FC has won 4 games, lost twice, and shared spoils once in seven games this season.
SC Villa has won five games, drawn once, and lost twice in the League.
KCCA FC shared spoils with URA FC at home in the previous league game last week at MTN Omondi Stadium, Lugogo
SC Villa were 1-0 winners against Arua Hill SC last Saturday at Barifa Stadium, Arua
In the last 23 meetings between both sides, KCCA FC has won ten times while SC Villa has won 3 games. Both sides have shared spoils ten times.
The fixture has produced 48 goals in the last 23 games. KCCA FC scoring 30 goals while SC Villa has 18 in the last 23 games.
Head to Head (Last 5 games)
KCCA FC 0-0 SC Villa
SC Villa 1-1 KCCA FC
KCCA FC 1-0 SC Villa
SC Villa 2-1 KCCA FC
KCCA FC 4-1 SC Villa
Team performance in the league
KCCA
KCCA FC 1-1 URA FC
UPDF FC 0-1 KCCA FC
KCCA FC 4-1 Blacks Power FC
Maroons FC 1-0 KCCA FC
KCCA FC 1-0 Vipers SC
SC Villa
Arua Hill SC 0-1 SC Villa
SC Villa 1-2 Wakiso Giants FC
Bright Stars FC 0-1 SC Villa
SC Villa 1-0 Busoga United FC
BUL FC 1-0 SC Villa
Team News.
KCCA
Shaban Muhamad is back training with the first team and traveled with the squad to Lira but this fixture comes a little too early for him.
Denis Iguma will miss the game due to suspension.
Jurua Hassan is ruled out due to injuries.
Dominic Ayella is away due to school commitments. The youngster is doing his senior six final papers.
SC Villa
The jogoos welcome back Travis Mututyaba who just finished his UCE exams and he has been training with the club.
Elsewhere in the StarTimes Uganda premier league today 25th of November 2022
BUL FC Vs Busoga United, FUFA technical center Njeru at 2 PM
Tomorrow 26th of November 2022
URA FC Vs Vipers Sc at 4 PM