The role of bees in the environment is that they are one of the main pollinators of our plants and crops, ensuring that food production is maintained, bees in a unique way contribute to biodiversity and other ecosystems.
Unlike other pollinators, bees have been crowned to be the greatest pollinators on earth because of the numerous eggs the Queen Bee lays after a drone bee (Male) successfully mates with her and later the drone dies but lives behind the materials that will make the next off springs of bees.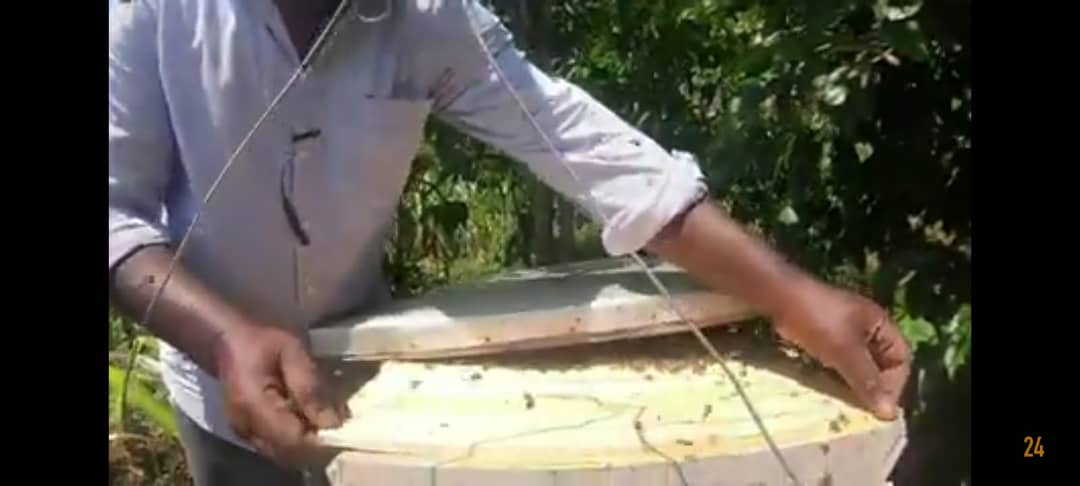 Bees live in colonies of 10,000 to 60,000 and it is hard to miss them. The ecosystem is made in such a way that trees need bees to pollinate them and in turn the trees give bees nectar to make their honey, a continuous symbiotic relationship that has existed since the dawn of time, until man came into the picture.
Google images show a decrease in green cover in most urban areas in Uganda. Whereas the queen bee lays thousands of eggs, Uganda's queens have failed to keep up with the rate of deforestation rates.
Caroline Nakajubi, the programs manager at Environmental Alert says, "For as long as trees do not exist then bees will not be able to survive because they specifically depend on this ecosystem kind of setup for their survival. So the escalating level of deforestation in Uganda affects the population of bees, feeding and their production."
She adds that the moment tree are not there it automatically creates changes in climate because trees help in the hydrological cycle, rain formation and also stabilizing the environment so without trees there shall be changes in the climatic conditions and when climatic conditions change, you will have changes in the behaviors and the entomology of these animals that we live with that are necessary for pollination and production.
Experts stress the fact that bee populations have gone worryingly due to deforestation, use of toxic non selective insecticides in agriculture among others.
"Forests are the biggest habitats for all diversity including bees. Forests especially the natural forests have a variety of flowers and because of this variety these forests have a lot of bees however because of deforestation this has affected the number of bees," says Dennis Amina a Trainer & Business advisor at The Uganda National Apiculture Development Organization (TUNADO) said to this publication.
David Kabanda, the Director for Center for food and Adequate Living Right he said that, "recently a research from 18 districts in Kampala indicated that 89% of the air is full of glyphosate which is round-up because it kills everything including the bees so there is a lot of pollution in the garden."
Other countries in the region have seen the importance of bees and have raised awareness of the threats they face and their contribution to sustainable development and with this some have put in place measures to conserve them.
"People kill bees because of phobia that a bee will sting them, so when a person sees a bee, the first thing they want to do is to kill it," Alice Kangave former Principle Entomologist Apiculture at Ministry of Agriculture says while at her home in Mutundwe.
She adds that when she moved to Tanzania, they have forest reserves for bees like Mabira if at all it was still there, "when I came back I said let us have a forest reserve for bees in Uganda. I even wrote a Forest Bee Reserve project but unfortunately did not go through because there are no forests in Uganda."
"One of the recommendations that have not missed from any of the policy documents that we have produced for government is the fact that regardless of whether these policies and programs are put in place and documented, for as long as these interventions to reduce forest degradation do not have an element that can attract the community that are the custodians of these resources to actually mange them through an intervention that is income generation something that can support lively hoods, we are not heading anywhere," Caroline Nakajubi added while advising the policy makers.
"Government should support, intensify or distribute beehives, support these groups even at local levels either women groups or young groups to establish apiaries and after that support market systems, create markets such that these groups can collectively access markets to sell their honey. Support renewable technology even for institutions," Nakajubi adds.
But it is not only deforestation that is affecting the bees, studies by Yale University show that Air pollution may be making it harder for bees and other insects to follow the scent of flowers, reducing pollination by as much as a third.
The findings suggest that air pollution could be a factor in the global decline of bees, which has been linked to the use of pesticides, herbicides, and rising carbon dioxide levels, and poses a significant threat to agriculture.
In comes Kampala which according to the Air quality Index has a current concentration at PM 2. 5. Which is 1.1 times deadly above the World Health Organization recommended limit.
With 9 out of 10 people in Africa breathing contaminated air, Engineer Bainomugisha is leading a team at Airqo, a start-up trying to offer solutions by monitoring air quality in Kampala.
According to Bainomugisha he says, "We collect air pollution data and apply artificial intelligence (A.I) methods to analyze the data, raise awareness and also inform action to help reduce air pollution in Kampala."
These problems pollution, human induced loss of forest cover has gripped a threat on the existence of the greatest pollinators on the earth.