With brains, beauty and wit Female Debaters from all over East Africa gathered at the Colline Hotel in Mukono to have their 3rd Edition of the Elle Parle Women's Open. These fearless young ladies took on different motions in the different rounds as they showcased their articulation. 
The 2023 Elle Parle Women's Grand Debate Open was under the Theme:
"A Bold, Firm and Strong Young Woman's Voice!"
Universities ranging from Bugema University, United States International University, Uganda Christian University, Islamic University, Makerere University among others sent representatives to showcase their wit and intellectuality at the circuit.
These young female debaters comprised of 32 debate teams and each comprised of 2 young female debaters. The team names were derived from personalities who are not only articulate speakers but also have spearheaded the fight for women's rights. Some of the team names were Molara Ogudipe, Dr. Stella Nyanzi, Miria Matembe, Hindou Oumarou, Samia Suluhu, Aminata Diaw, Winnie Byanyima and others.
These teams took part in both Debate rounds and public speaking rounds. The Debate circuit comprised of six debate rounds before moving to the semi finals and finally the finals.
 From the results of the preliminary rounds, sixteen teams would have to advance to the quarter finals, after which eight teams would advance to the semi-finals to finally get four final teams.
The Elle Parle team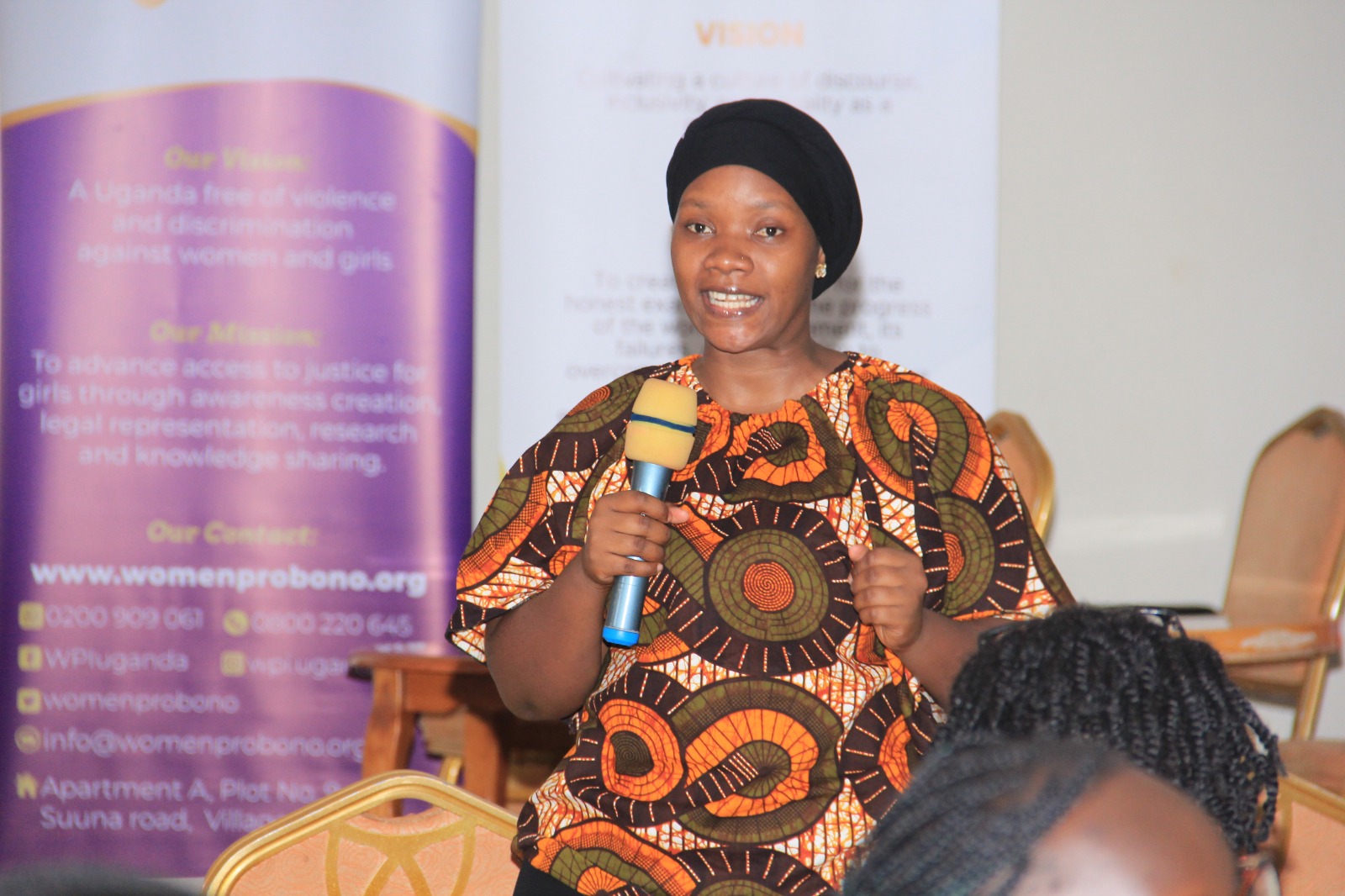 The Elle Parle team was comprised of 4 ladies each with a specific role to play for the smooth running of the Tournament. Taking lead was Sakirah Nakalema Tournament Director, Mercy Awino who was the Debate Convener, Prisca Akellowanga Head of Logistics, Musiimenta Scovia as the Finance Administrator, Leah Tabitha Nambuya Member of Orgcom & Adjudicator and Nabimanya Diana Member of Orgcom.
Shakirah Nakalema Tournament Director highlights some of the objectives as to why Elle Parle was birthed and what the intended impact of this Debate Circuit to the participants.
'I am pleased to be a part of the Elle Parle 3rd Edition Women's Open, the major purpose of this tournament us to provide a platform for young females to fully strengthen their voices on key societal issues. Elle Parle recognizes that young women are particularly under-represented in public and excluded from consultations on issues that affect them. As a feminist initiative, Elle Parle strives to develop the capacity of young women to qualitatively contribute to discussions on matters affecting them and to have a sit at the table where these voices can be heard' she says.
The Adjudicators
Like in any other competition Adjudicators were also part of the 3rd Edition of the Elle Parle Women's Open. Spearheaded by Chantelle Mukabi as the Chief Ajudicator from Kenya, Louis Gitu, Ebise Emiru, Grace Kinyua, Michelle Mawanda , Nina Nakiyimba among others.
Chantelle Mukabi Chief Ajudicator shares her Expirience being Chief Ajudicator but also her concerns about the debate circuit in East Africa at large.
'I love to travel, meet different people but also understand different cultures. I have had a really great time; the experience has been very insightful and the different members of my team have been helpful. In terms of adaptability, we need to get more acquainted with the online debate circuit. The online platform has more experience and engagement compared to physical spaces. Watching the ladies be ale to dig deep in some of these motions with crucial issues left me impressed and I will remember for sure'
The Adjudicators were Judging both the Open Debates and Public Speaking sessions.
The Rounds
The Female debaters used the British Parliamentary debate format which differs from many other formats because it involves four teams rather than two.  These include; Opening Government, Opening Government, Closing Government and Closing Opposition. Each team has 2 members, each with distinct roles. The teams on the Government side advance arguments in support of the motion, while those in the Opposition argue against the resolution and sometimes propose an alternative argument. Each speaker gives a speech of seven minutes.
The team had to under go 8 rounds before finally moving onto the semi- finals and finals. Some of the rounds featured a number of interesting motions that required not just knowledge of the motion but also realistic approaches to them depending on what side of the coin a debater belonged to.
Round One centered on the Motion stating that ''This House Believes that developing countries should prioritize adapting to climate change over trying to prevent it'' Debaters in this motion were to present cases for and against the motion which was to bring reasons why developing countries should priotise climate rather than trying to tamper with nature's course.
Round two of the Debate Circuit was under the motion ''This House Would condition development aid on the progress countries make on women's rights''.
Round Three: 'This House, as an international NGO, would accept USA funding at the expense of advancing pro-choice agendas''
Round four: 'This House Would mandate all countries to grant automatic asylum to all climate change refugees'
Round Five: 'This House Believes That decolonization efforts in post-colonial states should include the de-prioritization of global philanthropy'
Round six: 'The Voluntary Human Extinction Movement (VHEMT) is an environmental movement that calls for people to abstain from reproduction in order to cause the gradual voluntary extinction of humankind.'
Round Seven: This House Believes That developing countries should prioritize economic development over environmental conservation
Round Eight: ''In an effort to raise awareness and fight against oppressive corporates, This House Seeks formation of vigilante groups like the Gulabi Gang in Rural Uganda''
Clearly all eight rounds were not a piece of cake and required research as well as team work to be able to deliver points in the best way possible. One can boldly say that these rounds were quite tense but the female debaters were fully prepared to take on any challenge or motion presented to them.
Speaking to one of the participants Hadijjah Jakana from the Islamic University of Uganda she shares her experience.
'My debate experience has been very nice; I am new here but I must confess this Debate Circuit has not only given intellectual take home points but it has also been also been a platform for networking and meeting some of the most out spoken ladies from the different Universities. I have always been passionate about debate and this is a dream come true for me. Being part of the Elle parle Women's Open is an experience no one should miss out on'' She narrates.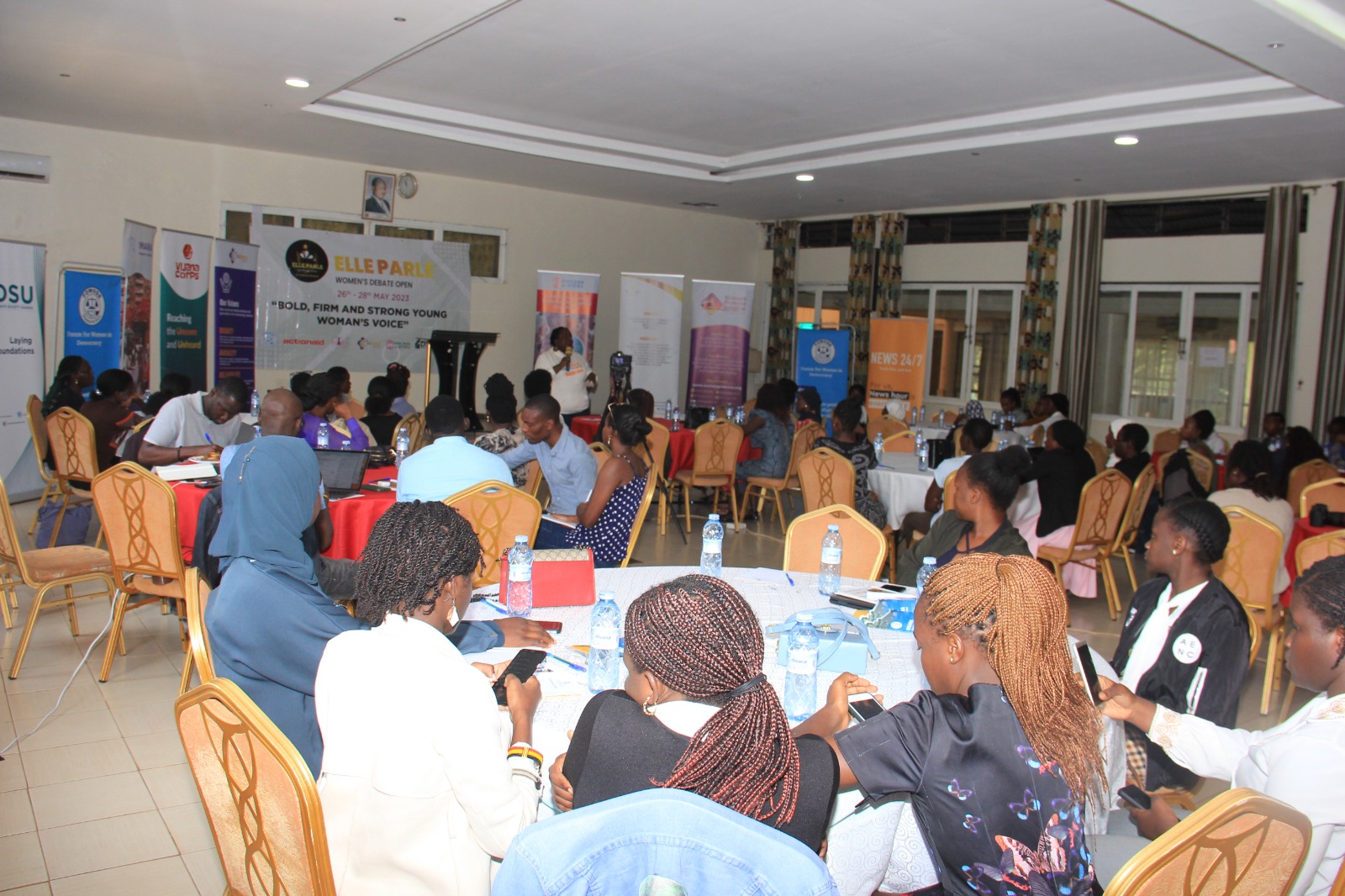 The Female debaters then came to take on the Semi – Final motion of the debate for the Adjudicators to finally decide on the teams who would make it to the finals. 
Under the motion ''This House Believes That feminist groups should exclusively operate locally and nationally as opposed to operating globally'' debaters were required to bring out points that either give reason as to why feminist groups should either remain operating locally or give reasons as to why they should be allowed to grow globally.
The different positions were divided as Opening Government (Team Angelique Kidjo) being represented by Atwiine Sabrina, Aloikin Praise Opoloje, Opening Opposition (Dr.Stella Nyanzi) being represented by Laker Joanita Juliet, Atumanyire Mary Saviour, Closing government (Samia Suluhu) represented by Maimuna Naluwembe, Atai Isabel  & Closing Opposition (Prima Kwagala) represented by Nakigudde Maria Speria, Tafumba Rachel Rhoda.
By the close of the Debate Opposing Government's teams had both gone through while Opening Opposition were both eliminated, closing Government had one out the two teams go through and Closing Opposition with one of the teams to make it through to the finals.
The debaters then moved to the Grand Finale where the winning team would be chosen. Under the motion 'This House Would create a global carbon market' In this motion the debaters' 
Carbon markets already exist around the world. They work with permits granted by state on how much carbon one can use or emit under a cap. Companies buy and sell permits from other companies on the carbon market depending on how much carbon they have used by the end of a given year. If they exceed the cap, they must buy more permits, and sell their surplus permits if they were below the cap. This is called "Cap and Trade". This works the same way electricity or water supply does: there is a fixed supply and varying demand which drives prices up or down. A global carbon tax would mean all countries share a cap, buying and selling their carbon permits on a global scale.
Team Primah Kwagala which comprised of Nakigudde Maria Speria and Tafumba Rachel Rhoda were announced as the best team in the Debate sessions while Anzoa Sarah was awarded best in the Public Speaking category.
Nakigudde Maria Speria and Tafumba Rachel Rhoda share their experience during the tournament and the excitement of winning an award.
'One the awards are so beautiful they are clearly tailor made to show that women do indeed have a voice. We are both extremely excited but we couldn't have done it if it were not for team work and proper interpretation of the motions that were given. We thank the Elle Parle committee for putting together such an amazing discourse where female debaters gather and share experiences about societal issues'
Anzoa Sarah was nominated winner of the public speaking tournament. Unable to hide her excitement she shares some of her highlights.
'This debate was indeed a challenging one and public speaking is not a skill many young women possess and yet it is quite essential in our day-to-day experiences. I am so excited to be crowned winner in the public speaking category. Special thanks to Memprow Girl's Network Uganda for its mentorship but also my fellow debaters for always taking up the challenge. Come next tournament we shall do it again'
The debate Circuit also comprised of a panel discussion on the topic of 'Civic Engagement and Emerging trends. Some of the panelists were Ms Sarah Fortunate from Action Aid, Rahom Bukirwa Programs Co-Ordinator Women's Probono Initiative.
The Closing Ceremony was also graced by Hon. Ann Adeke Woman MP Soroti District and Chairman National Youth Council Uganda, Jacob Eyeru. Mr.  Xavier Ejoyi Executive Director Action Aid Uganda was the guest of honor and gave remarks as well as awarded the winners of the day.
'Debate in Uganda is something we need to continuously push for. I am glad that Elle Parle was bale to come up such a platform that not only encourages debate but also centers on encouraging young women of today to take spaces where policies are being discussed. We at Action Aid are committed to empowering the female debaters to continue practicing and raising their voices for the common good'. 
The Partners
This event wouldn't have been a success without the helping hand of some the partners. The partners for the Elle parle Women's Open 3rd Edition were Action Aid Uganda, Forum for Women in Democracy (FOWODE), Akina Mama wa Afrika, CivSource Africa, Debate Society Uganda, The Women's Probono Initiative and News 24/7.
Some of the partners were able to share why they partnered with Elle parle under this debate circuit.
Patrick Semwogerere National Head at Debate Society Uganda gives an insight as to why they chose to partner with Elle Parle and what they hope to achieve.
'One of the challenges we have in the country and even across all universities is to get young ladies to show up for debate or to participate for a number of reasons e.g., stereotypes so these are some of the agenda's that as debate society we want to break to have more ladies on the teams because it serves all of us you know it serves all of us in terms of equity and equality but also the right contribution from the right people with the right context. It is important that we adopt debate in all systems because it yields great leaders. This partnership also helps us fulfill some of our objectives which is to better the speech of debaters and speakers in Uganda.'
Ms.Sarah Fortunate, Climate Resilient Co-rdinator Action Aid highlights the importance of giving young females a platform to be part of decision making and policy reforms.
'We have partnered with Elle Parle before but the major reason we do so is because our visions tally with what Elle Parle is trying to achieve. In a sense that we are providing young people with a platform to be able to be involved in discussions and discourses that affect them as members of the community and these different discussions basically in regards to environmental challenges climate change impacts women issues challenges to access to resources. Young people are  able to be productive members of society influence policy ensure that some of the barriers and challenges that they face as a group and as a core group being that they are the biggest percentage of that contribute to the population of the country at the moment so we thought it prudent to work together,' She says.
History
The Elle Parle Women's Open is a debate open meant to attract female debaters who are both in and out of school. The Debate Open is the brainchild of a group of ardent alumni female debaters from various universities in Uganda. 
The term Elle Parle in French simply means 'SHE SPEAKS' this is a clear representation of what Elle Parle Women's Open is all about.
The first edition of the Debates took place in 2020 at Makerere University Business School under the theme:
"Cultivating a culture of discourse; Inclusivity and Equality as a Generational Mandate."
The second edition of the Elle Parle Women's Debate Open took place at Kyambogo University under the Theme "Breaking the Bias!" in accordance with the International Women's Day.