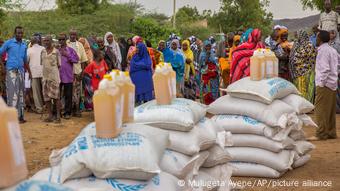 (URN)
The United Nations has warned of increasing food insecurity for people living in northern Ethiopia after its warehouses, stocked with vital supplies, were ransacked.
An estimated 9.4 million people are currently in dire need of food aid in northern Ethiopia, according to the United Nations (UN), as the ongoing Tigray conflict.
The humanitarian situation is most acute in the Tigray Region, where 5.2 million are at risk, along with another 534,000 in Afar and 3.3 million in Amhara.
However, there is still no indication as to when help will arrive after the UN announced on Wednesday that it was forced to suspend aid distribution in the northern Ethiopian town of Kombolcha after gunmen looted its warehouses.
UN Spokesman Stephane Dujarric said there was "mass looting of warehouses across Kombolcha in recent days, reportedly by elements of the Tigrayan forces and some members of the local population."