We have always heard of Kampala Massage parlors being used as brothels to sell sex privately so we decided to put this theory to the test.
We had received a tip off about one particular place in Kanyanya and so I went undercover as a client to get a massage.
At Kanyanya Trading center is where I stumbled upon a poster on my way back home advertising a guest house, gardens and massage parlor.
"This was my perfect opportunity to have a relaxing massage" I thought to myself
Nearly 200 meters off the Kanyanya road, I reached Kitala trading centre where the massage parlor is located. I found the gate widely open with a few patrons already inside at the bar area sipping away on their drinks.
As I entered a soft voice whispered, welcome and I immediately turned to my left to find a skimpily dressed brown lady with a beautiful smile whom I informed that I was here for massage services.
She directed me to the reception where I met another lady who without question handed me a menu book with erotic pictures illustrating the different types of massages available here among them, Swedish massage, deep tissue massage, Nuru body to body massage, and Four hands massage.
I meet Ronah
After I made my selection, the receptionist made a call to a one "Ronah" (not real names) the masseuse who was going to serve me. In less than five minutes Ronah arrived.
It was my first time going for a massage and I was nervous to know what exactly she was going to do so I asked Ronah what these packages meant.
She then went on to explain the packages;
"For Nuru type of massage, I will soak my naked body in oil and rub it against your body, if you choose Four hands massage, it will be me and another girl massaging you," Ronah explained
I asked what type of massage would be ideal for a fatigued person like me.
"Sir for that you need Swedish or Deep tissue massage" she replied.

"Sir Swedish massage is just a simple massage done just to cool off your stress whereas Deep tissue there we press your veins hard to relieve of any pains being felt,"
I then made my choice, a deep tissue massage and Ronah told me to follow her to the Private Massage Rooms.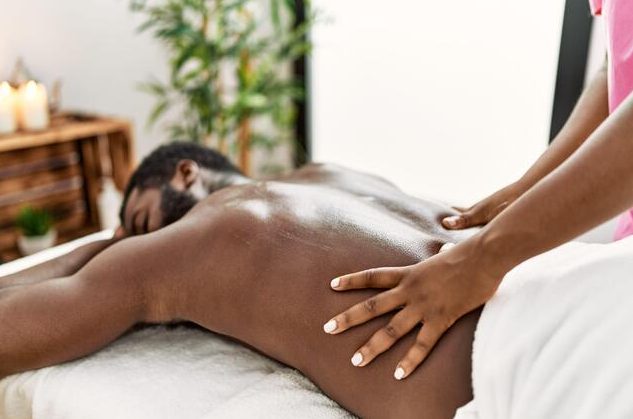 The room had dim blue lights with a strikingly nice scent engulfing it. Here is where things started getting sexualised. Below is our conversation inside the massage room
"Would you like to take a shower with me or your shy?" She asked.
No thanks, is it also part of my package?
"No but i can offer it to you at given price before i start massaging you."
No thanks, but how could it be?
"Having bath with you its Ushs. 50,000 however i can offer more more services besides massage as your going to see." she replied with a wide smile.
She asked me to switch off my phone or give it to her to keep it in the drawer where she had put my other belongings. In just seconds Ronah began smearing olive oil all over my back down to the thighs as she pressed gently on various muscles.
As she continued with the massage I started asking some more questions.
Where did you learn to do massage?
"I learnt massage from my sister's saloon in Matugga But I have spent only four months here because we are always transferred by our boss to other places,"
"Do you need a happy ending or any extras?" she asked
What do you mean by extras and happy ending?
"At the end of your massage package I can give you live sex at a cost of 200k or protected sex at 100k, a hand blow-job at 50k but you have to pay here with me, no need of going back to the reception."
Aren't you worried about contracting HIV and related diseases?
"This is the only way i can get extra money on top of the little commission I am paid from each customer, I am a single mother with two children who need school fees and care." Ronah replied.
Ronah revealed that in a day she receives between 15 to 18 clients who opt for the "happy ending" after the massage.
Prostitution in Uganda is illegal according to the Penal Code, but is widespread despite this. Many turn to prostitution because of poverty and lack of other opportunities.
READ MORE STORIES