Security personnel in Karamoja have recovered 145 guns and 1,412 rounds of ammunition from Karamojong cattle rustlers in the second phase of disarmament. 
Micheal Longole the Karamoja Regional Police Spokesperson said the guns were recovered through direct fire exchange, Voluntary handover, and intelligence-led operations.
"Am glad to report that from 17th of July 2021 when we launched disarmament in Karamoja to date February 2022 we have recovered  145 guns and 1412 ammunitions from Karamojong cattle rustlers, "he said.
Longole said the rustlers have been using the guns for terrorizing the neighboring districts such as Kween, Katakwi, and Acholi region including carrying out inter-district raids.
He said the security forces have noted that massive raids have significantly gone down due to the heavy presence of security personnel both police and army.
Longole however, calls for support from the general public saying bringing peace in Karamoja was a duty for every person living in Karamoja.
"The public should not leave everything to the security but they should work with the security by identifying wrong criminals and inform the security to take action, "he said.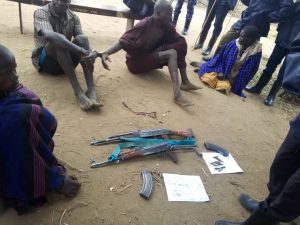 Marry Lomuria a mother and a resident of Acerer village in Loputuk Sub County in Moroto District said the situation has calmed down adding that even people who used to enter their houses as early as 6 pm now stays till 10 pm.
"We are seeing some change especially in our village but that does not mean that the security situation has been handled not yet, "She said. 
Thomas Longok another elder said the rustlers have stopped attacking homes without livestock.
"These people are only after livestock, when you have cows and goats in your home, just be assured of attack any time," he said.