Award winning Investigative journalist Solomon Serwanjja has weighed in on the abrupt promotion of first son Muhoozi Kainerugaba from a Lieutenant General to a full four-star general.
Gen. Muhoozi Kainerugaba was promoted by his father president Yoweri Museveni to the highest Military rank available in Uganda, a General officer of the UPDF.
Muhoozi however was dropped from commanding the land forces and now only stays as a presidential advisor on special operations.
Serwanjja while speaking to the BBC says this was actually a demotion;
"Well you can look at it Bola as a demotion. To many of us it has been a long time coming because it falls on a backdrop of alot of things that have been happening and that really falls on how the former army commander has been managing his social media account tweeting matters on his personal opinion which have been reflected as the opinion and statement of the army."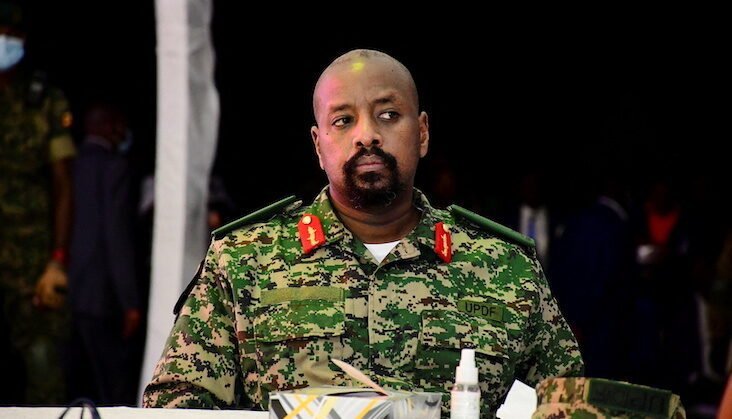 The BBC Komla Dumor award Laurette went on to reveal the reasons he believes are behind Muhoozi's replacement as land forces commander.
"What has happened Bola. About a month ago he tweeted very controversial issues that raised the security alert to standby class 1 and top generals within the army called on the chief of defence forces and the Commander in chief General Yoweri Museveni to put him to order in Ntungamo a district in western Uganda."

"One of the resolutions from that meeting was to stop him from posting issues of national security, posting issues on Foreign affairs and diplomacy to rather use his official twitter media handle for sports and entertainment and indeed after that meeting he went silent on twitter until he tweeted that he was back."
READ MORE
The first son General Muhoozi on Monday took to his twitter handle to declare that the Ugandan army could take Nairobi in just two weeks.
It wouldn't take us, my army and me, 2 weeks to capture Nairobi.

— Muhoozi Kainerugaba (@mkainerugaba) October 3, 2022
This raised some hairs in the neighbouring country and before long, Uganda's ministry of foreign affairs came out to disown the alleged invasion of Kenya and the insinuation of an attack on what the ministry termed as a brotherly neighbor.
Serwanjja says this was the last straw that broke the camel's back.
"He started from where he stopped tweeting about russia and saying that whoever attacks Russia attacks Uganda and attacks all of us."
General Muhoozi Kainerugaba was replaced as Commander land forces by the commander of Eastern DRC Operation Shujaa Leuitenant Gen Kayanja Muhanga.