President Yoweri Museveni's last born, Diana Museveni Kamuntu has applied to National Identification Registration Authority to drop the use of her husband's name, "Kamuntu".
According to the September 29 notice in the Uganda Gazzete , Diana says she intends to apply to NIRA and that she wants to be known as Diana Museveni Kyaremera.
The mother of 3 has been a wife to Geoffrey Kamuntu a businessman and one of the least known of President  Museveni's sons-in-law.
They have been husband and wife for the last 19 years having got married on 24 July, 2004.
Just like her spouse, Diana has been private person and likes living low-profiled life and she has been the managing director of her father's (Museveni )family businesses and oversees all private ventures.
The two have not been in good terms for some time thus making her to drop her ex husband's name Kamuntu.
"NOTICE IS GIVEN THAT I, DIANA MUSEVENI KAMUNTU of P.O. Box 9021, Kampala, intend to apply to the National Identification Registration Authority [NIRA] to change my name to DIANA MUSEVENI KYAREMERA," the notice reads.
"I intend to formally and absolutely renounce and abandon the use of the name KAMUNTU and assume and adopt in place of that name the name of KYAREMERA," it adds.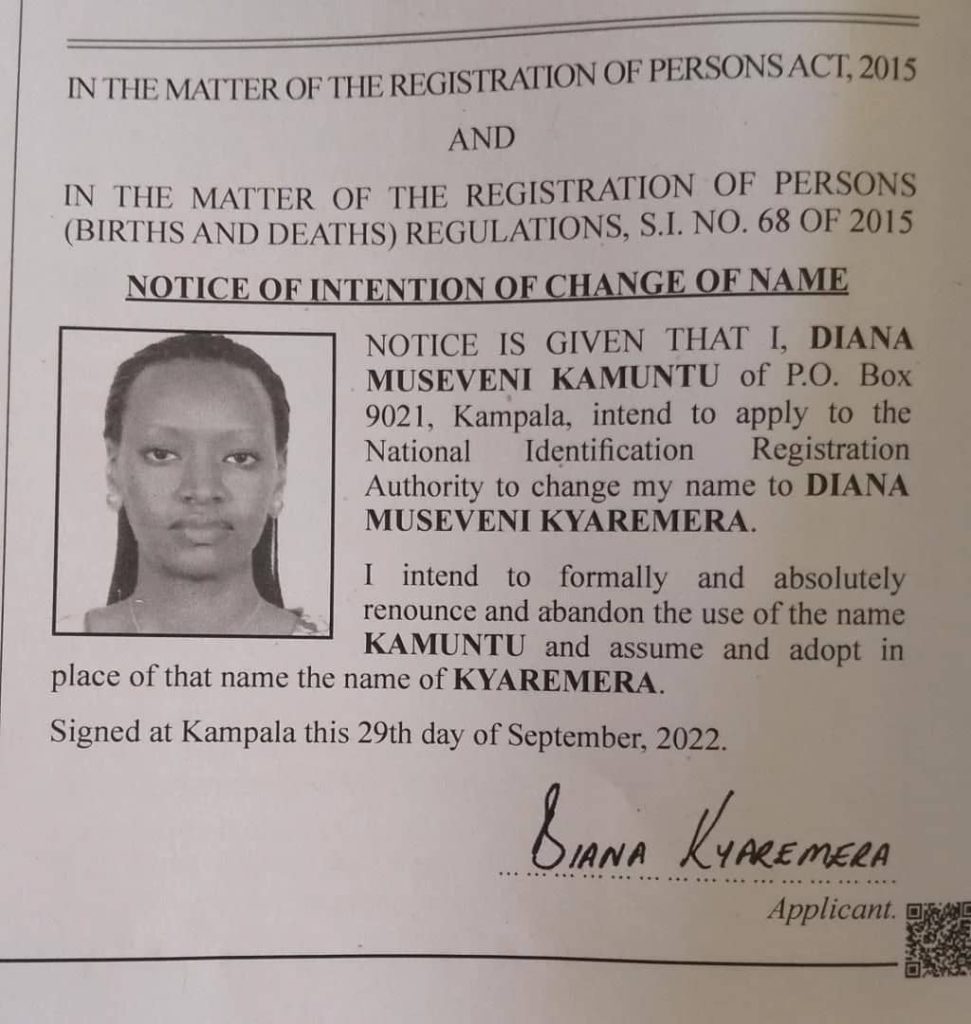 Sources reveal that the two have had a cold relationship and marriage for a while and this change of name may be the beginning of divorce proceedings.
In a magazine interview, Diana opened up a bit about how she met with Geoffrey Kamuntu. She said they met at her sister Natasha Karugire's home, Edwin, was a good friend of Geoffrey Kamuntu.
"He was a friend to my sister's husband and we met at their house" says Diana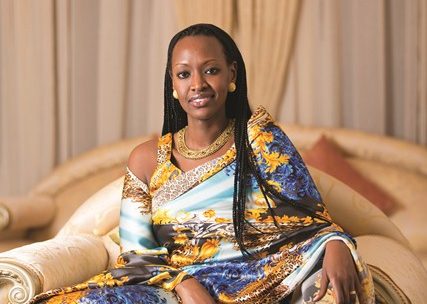 Diana Kamuntu has also been into some acting and indeed acted as First Lady in the Ugandan movie, titled 27 Guns, some years ago(directed by her elder sister Natasha Karugire.
On his part, Geoffrey Kamuntu owns a procurement firm that does consultancy work for the oil explorers in the Albertine region. He is alleged to have key interests in the Heritage Oil Company, one of the companies doing oil exploration in the region