A video showing a woman swimming closer to the edge of Devil's Pool has surfaced on Twitter. Devil's Pool is on the Zambian side of Victoria Falls and it is located almost midway across the mile-wide waterfall, close to Livingstone Island. The video from there is not just gripping but also scary at the same time. Soon after the woman's video rolled out on the internet, other tourists who visited the spot and vibed in the chilling moment took to share their visuals in the reply section.
Apart from the amazing shots showing people pose from the picturesque location, an image showing the struggle of the cameraman has won respect and praise as well. The tweet that captured the behind-the-scene moment from the risky photoshoot also informed that the adventurous event is "well organised." However, a counter opinion was also shared on Twitter as a tweet suggested that the stunt had turned fatal.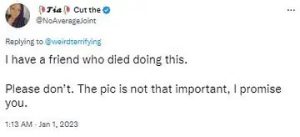 So how much money would make you do this?