The Centre for Health Human Rights and Development(CEHURD) and other Civil society organizations have called for an end to the persistent stockouts of essential medicines and health supplies in government hospitals countrywide.

According to the CSOs, In some health facilities, patients were reported to have abandoned public health facilities because of the absence of essential medicines and health supplies which drew the attention of the parliament of Uganda which summoned the Ministry of health to explain why.
The Minister of Health Hon.Jane Ruth Aceng affirmed the existence of stock outs of EMHS and attributed it to delay in the release of funds by the ministry of finance associated to the integrated financial management system and limited resources for procurement and delivery of EMHS.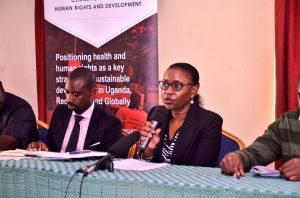 This was corroborated by findings from a rapid assessment in districts where civil society has a presence and it highlights that since November 2022, health facilities have faced stockouts of EHMS especially for SHR,antimalarials and antimocrobials.

They have advised government to allocate more funds to health facilities and supplies faulting finance authorities for cutting over 400 billion off the health care budget which has now created a high risk of stock outs.

"What is our call then,more funding definitely we have learnt ever since the budget cycle begun ,that 400billion of the health budget has been cut off ,this puts us at a very great risk of more challenges" Rev Nathan Mugalu said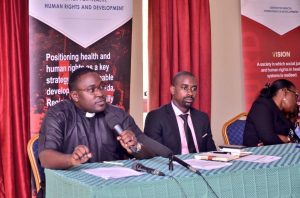 He also added that "Effective transportation,we heard something about transportation if we can airlift individuals can't we airlift drugs and deliver them timely to where they are needed.Outstock of drugs means we are loosing lives and families are being incapacitated and this whole generation is being incapacitated "

The parliamentary health committee chair and Koboko Member of Parliament Hon. Dr. Charles Ayume revealed that government has now started making deliveries of the medicines to health facilities across the country.
"As I speak atleast government through National Medical stores is trying to do whatever it can to get drugs to all parts of the country." Ayume said

He also gave assurance that they would fast track the passing of the National health insurance bill into law.

"Much as we are quick to embrace the National health insurance I think the onus is upon us the government to prepare the health care system to receive it is not going to hung in the air,we are going to be using the existing structure."he said

"I want this bill to come as much as possible but on the other side I really wish that we can also get the resources to ensure that the health Centres IV are functional ,we need to renovate them,we need to put them up to spec"Ayume added