Many have argued that his strike against Tottenham Hotspurs while he was at Arsenal on that September 15, 2007 afternoon in the second leg could actually be his best career goal -a through-pass from his teammate Cesc Fabregas found Emmanuel Adebayor at the 18-yard box with Craig Dawson in his watch waiting to intercept.
The flamboyant over towering Ade (like many team mates liked to call him) lifted the ball with precision on his first touch beating Dawson while the other nearby defenders watched almost helplessly.
He aimed to the top-right corner past Paul Robinson with a thunderous strike putting Arsenal ahead in the early minutes of the game.
"If the Puskas award existed one year earlier , Adebayor would have won it by miles," one of the fans commented about the goal. 
At the age of 39, former Togo international striker Emmanuel Adebayor has hanged his boots from active football after a thrilling career that was punctuated by controversy both home and away.
Adebayor might have never been rated as Africa's best footballer but his fortunes that were characteristic of his career including playing for the biggest clubs in England and Spain make his call for the most happy man on earth, valid.
"From the highs to the lows, my career as a professional athlete has been an incredible journey. Thank you to my fans for being there every step of the way. I'm feeling so grateful for everything, and excited for what's to come!" Emmanuel Adebayor posted on Instagram.
It might have been luck or sheer good work out there but the striker played for Arsenal during which he was voted BBC African Footballer of the Year, 2007, Player of the Year, 2008, and Premier League PFA Team of the Year 2007–2008. He was voted African Footballer of the Year in 2008.
Adebayor played for English clubs Arsenal, the current table leaders with 69 points where he scored his most career goals as he netted 68  in 142 appearances and also second-placed Manchester City scoring 19 goals in 45 appearances. He joined Tottenham Hotspur on loan before making it permanent and scored 42 goals 113 appearances, and Crystal Palace where he only one goal. He also played for Spanish team Real Madrid on loan from Man City and scored eight goals in 22 appearances.
At some point, Adebayor was paid by three clubs at the same time; he belonged to Manchester City then loaned to Real Madrid where coach Jose Mourinho asked for his services but Spanish also found him surplus and loaned him to Tottenham before the agreed time for the loan spell elapsed.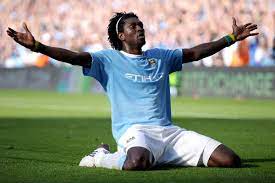 The Togolese international also played for  French side Metz scoring 17 goals, Monégasque team Monaco netting 26 goals, Turkish clubs İstanbul Başakşehir scoring 28 and Kayserispor where he managed on 1, and Paraguay's Club Olimpia.
When he joined Olimpia Asunción in 2020, he became the highest-paid player in Paraguay but didnt score any goal for the team.
In January 2010, Adebayor was one of the players involved in the infamous attack on Togo team's bus when gunfire was opened on them as they headed for the 2010 Africa Cup of Nations in Angola.
Following this incident he retired from national team duty. In 2013, he returned to the Togo team for the 2013 African Cup of Nations in South Africa, where he helped them to qualify for the quarter-finals.
During his time at Tottenham when he experienced a long drought without scoring goals, Adebayor accused his mother of performing witchcraft on him to stop scoring.
Adebayor also faced it rough when he returned to Emirates Stadium, the home of Arsenal after he had left. After scoring for Man City, the striker ran around the pitch in ecstasy and this rubbed the fans the wrong way leading to the Togolese being fined for his action.
He scored 32 goals in 85 matches for the Togo national team