BY DERRICK WANDERA & DANIEL LUTAAYA 
A collaborative report by News 24/7 and Daily Monitor.
The midmorning scorching sun caused violent rays piercing through a haze that hung above the bare vast land, only punctuated by stunted almost-leafless trees at Anakwamovu village, Lokudumo C parish, Kopeyi sub-county in Napak District of Karamoja sub-region.
A woman, half-dressed in what one would easily mistake for tartars, perhaps in her late twenties prances towards the only green leafy plant as her seven children, most of them naked trot behind her.
The mother climbs atop of the medium-tall tree to pick leaves which later make the family's meal. The family can neither afford a pinch of salt to change the taste of the bitter leaves nor can they get solid to escort the vegetables.
Such is the life that more than 78 per cent of the people of the sub-region who cannot afford proper food, according to reports -and yet the mother of seven belongs to more than three government programmes which are meant to eradicate poverty from the region.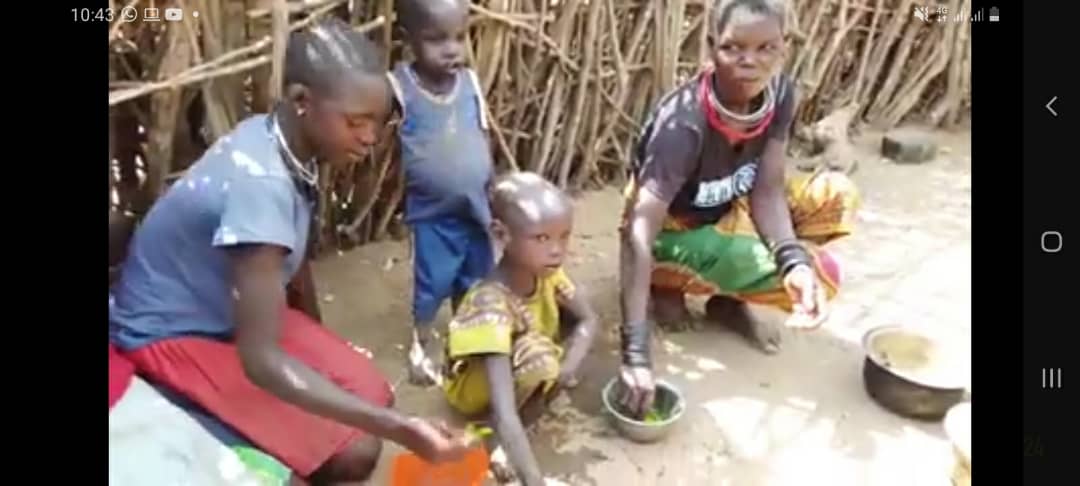 Uganda Bureau of Statistics (Ubos) of 2019 indicated that Karamoja holds the highest poverty rates of 60.2 per cent above a national average of 21.4 per cent, followed by Bukedi 43.7 per cent, Busoga 37.5 per cent, and Ankole in the west 6.8 per cent. The central districts of Wakiso and Kampala with 2.7per cent and 2.6 per cent respectively.
Other reports on food security have put Karamoja's scarcity at 75 per cent over the past 10 years.
However, Northern Uganda has since 2002 received stimulus interventions of close Shs4.45 trillion especially after the displacements that were caused in 2005 when the conflict between the Government of Uganda and the Lord's Resistance Army (LRA) peaked – during which, more 100,000 lives had been lost. Nearly 1.8 million displaced people lived in 251 'protected camps' across 11 districts in northern Uganda.
Subsequent interventions unfolded as Northern Uganda Social Action Fund (NUSAF), including $100 million (Shs370 billion) for NUSAF 1 from 2003 to 2006 in 40 districts. An additional $135 million (Shs500 billion) financed NUSAF 2 (2009-2012) in 56 districts and $130 million (Shs482 billion) for NUSAF 3 (2015-2020) in 67 districts.
Trials of Emyooga
During an investigation for this report, we discovered that most of the programmes have faced primitivity of the locals, corruption scandals, ghost projects and lack of political will from the local leaders.
For instance, Sarah Naduk is a member of Lokudumosi "C" Emyooga group which is one of the poverty-eradication programmes but because her group did not receive the money from those that were meant to give it to them, they have remained in a dire state of poverty.
Documents seen by this News Paper during this investigation show that Napak District has 22 registered groups for Emyooga but only six of them received the money and local leaders have not been given an explanation from the district leaders.
Mr John Lokivu Angole the Local Council chairman of Anakwamovu village says that they have not been given clear answers just like has been other programmes that have not benefited those that are supposed to gain from them.
"We have heard stories that our money was stolen from the top leadership. I went there myself and they told me they would send us money in a week but now it is six months and no one has come to us," Angole says.
Emyooga which falls under the Presidential Initiative on Wealth and Job creation and PDA projects were launched in 2019 and 2021 respectively as part of the broad government strategy that seeks to transform 68 per cent of the homesteads from subsistence to money economy. The money is channeled through the Saccos.
Emyooga mirrors a range of other poverty alleviation programmes — among them Entandikwa, Poverty Alleviation Programme, Poverty Action Plan, Northern Uganda Social Action Fund (NUSAF, Operation Wealth Creation (OWC), The National Agriculture Advisory Services (NAADS) among others which put together have posted less than satisfactory outcomes.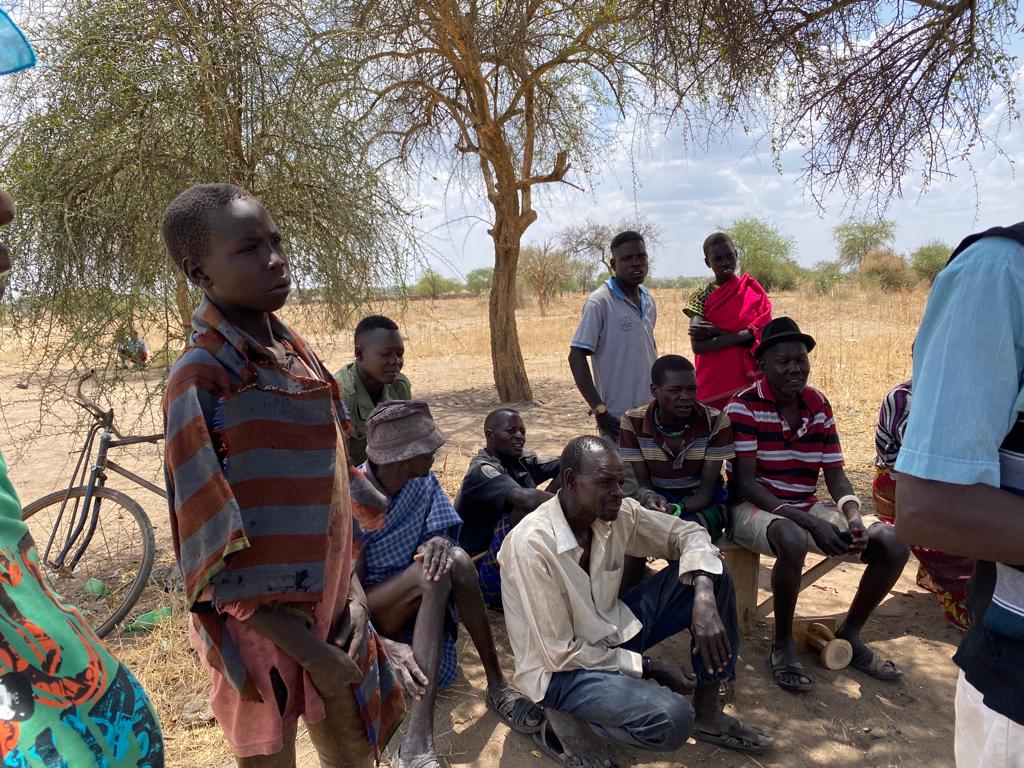 The money was meant to be managed by the Microfinance Support Centre under the coordination of the Ministry of Finance to be shared among beneficiaries in all sub-regions, when they meet the requirements.
Local leaders and authorities that we talked to for this piece held ping-pong against each, indicating that the local leaders have been to blame because of their intrigue and sometimes conniving with the perpetrators.
Our findings show that at least 22 groups of Emyooga Savings and Credit Cooperative (Saccos) registered to get Shs30m each but only six of them accessed funds and the remaining have since been asked to wait for the next financial year.
Each of the 22 groups had a total membership of 180 people but even those that got the Shs30m found the money insufficient. This means that with Shs30m, each member would take home about Shs 166,000.
"We have been to the district headquarters several times but we don't get clear explanations why some groups like mine have not received the money. We are told that maybe some people have diverted the money," says Peter Apuun, the chairman of Lokudumo "b" village in Moroto District.
Denis Okori, the Resident District Commissioner (RDC) of Napak District blames the local leaders for failure to monitor government projects which they have been mandated to do.
"It is poor leadership and lack of the mandate to take over the issues that they have been tasked with. Even the coming programmes are not going to perform because the new projects buy into the old ones," Okori says.
Nusaf projects lie in limbo
Many local leaders and the natives implied that most of the Non-Government Organizations and government projects in the area have faced a problem of ghost existence.
For instance, they say that a person or group of people can put up a sign post indicating that there is a project that they are handling, they take pictures of the sign post and send it to the donors or government officials and claim for support.
During this investigation, we were directed to Lopeei Subcounty, Nakwamoru Parish, Lokunget village in Napak District where there is supposed to be home to the Lodapal Cereal Banking Youth Group whose funds, according to the village leaders, were released in 2018 but to date what you find is a signpost sitting in solitude on bare land.
The village leader who doesn't want to be named in this story because of its sensitivity says they have never seen any official from the government coming to check on the progress of the project which was under Nusaf II under the Prime Minister's office.
"We only see people coming with cameras and we have never known what exactly it is they are doing. The locals are not encouraged to speak about anything lest, you get attacked or be framed as a cattle rustler," the leader says.
This reporter interviewed multiple residents trying to find out why the projects continue to face these threats and why they have been hit by ghost workers and non-existence, one of them says, "That is a huge trick we use here because most of the projects are not appreciated by the locals and they think that someone putting up a project is actually plotting to steal their land. So, they put up heavy resistance and in the end the project managers get a wide legroom to steal the funds that are meant for it."
On June 6, 2022, the Anti-Corruption Unit in State House wrote to the Moroto District RDC bringing to his attention the mismanagement of funds worth Shs1.5billion.
The letter signed off by the head of the unit, Brig Henry Ishoke asked the RDC to cause an investigation in this matter with immediate effect to which Mr George William Wopuwa says he acted.
"Refer to the letter, Ref PO/1.20 dated 6/6/2022 addressed to the RDC Moroto copied to you from Head Anti-corruption Unit State House among others The letter requested me to cause investigations on two issues mentioned in the letter," in part read Wopuwa's letter addressed to the DPC, adding that, "I have already interacted with the Regional CIO/Officer and District CID. I also did forward a copy of the letter to the Chief Administrative Officer for appropriate action. In the interaction with Regional CID Officer and District CID Officer we agreed that a general inquiry file be opened and investigations be done professionally."
Among the issues to investigate included, "To establish how a decision was taken to locate a school in an area not settled, who was the project Manager, what were the BOQs for each of the contracts awarded and in second phase we had five contractors, what was the rational/justification of having five contractors."
He also asked to inquire into whether all the funds were paid including retention, the project handed over by the contractors and to who in case there was a handover, the four classrooms do not have furniture what was the plan, the project does not have solar or the National Grid, what was the plan for lighting the school and indicated that apparently there is no coordinated site plan. The boy's dormitory is almost 100m away from the latrines, the buildings are just scattered, there was no land scraping all the above making it difficult to fence. Why? And there is no playground for co-extra activities.
"There is shoddy work. the latrines have cracks, the Dining Hall floor is cracked, what is anticipated course of action, there are no staff houses and there are no nearby settlements, when conceiving the project, how were teachers expected to reside," the letter continued to say.
Mr Wopuwa, however, says that the police, to date have not taken on this work at all and they have never availed any reports on the issues that were raised in the letter, "There is no coordination at all, the work is not moving because those who are supposed to do their work have refused to do it. I have been blackmailed and ganged by the people against me because of following up ghost projects and corruption."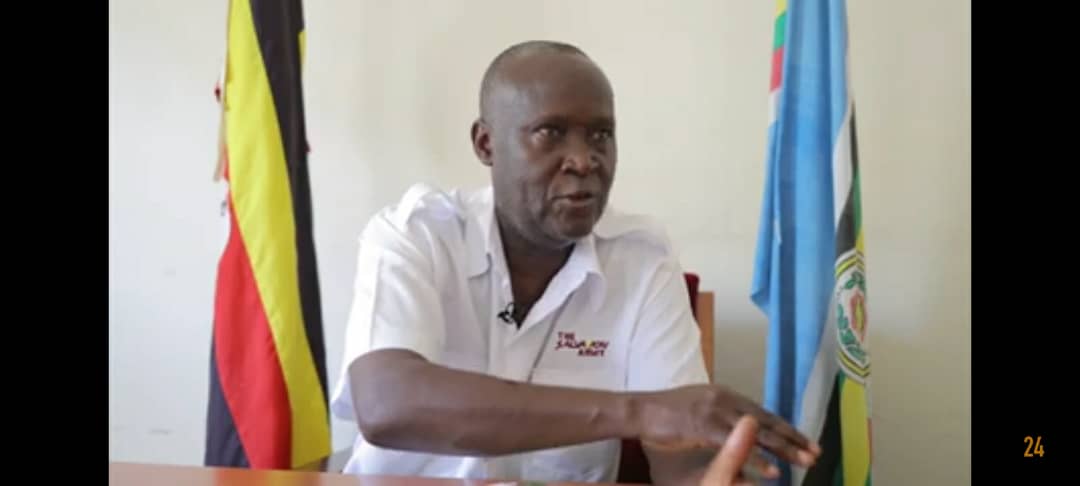 Mr Peter Mugabi Wambuzi, the District Police Commander Moroto declined to respond to the matters that he was accused of.
"I am not ready to comment on the matter. I feel very uncomfortable to comment on this issue," Mugabi says in a telephone interview.
Marlon Agaba, the team leader of Anti-Corruption Coalition Uganda (ACCU) says that the government and the leaders of Karamoja are equally to be blamed for the corruption that is happening in the sub-region.
"I know that there are more sign posts than the beneficiaries," Agaba says adding, "Elite capture is that the people who have studied have not fought enough for their own people because they have connived and become a cash cow for those that are corrupt."
More ghost projects
In Nabelatuk District, Mr Paul Lokol, the district chairperson indicated that a business worth Shs3billiion had been lying idle with the proprietors, Agro-max mills failing to put up structures and growing maize to help sustain the people of Karamoja.
During our on-field visit, we discovered that the land that had been allocated to Agro-max sits on more than 100 acres of land but there is not any work.
"We have tried to reach out to the person but he has been dodging us and yet government money is being put to a waste. We demand that he comes out and explains why he is lying to the government that there is anything happening yet there is nothing," Lokol says.
"Karamoja is a national tragedy and information has been coming out in piece mill and we have not had a thorough investigation. We have a lot of affirmative action in Karamoja but when you look at the indicators of the poverty and hunger, the two are in total contradiction because the people haven't been empowered. The mindsets of the people haven't helped in anyway.
We reached out to Agromax for comment on this project and they confirmed that they indeed received the money in question from government but maintain that all of it was spent.
"1.3 Billion shillings was released for the site and these funds have been fully accounted for to NUSAF3. The funds supported the road opening, to site, bush clearance, ploughing and harrowing, inputs for the 1st production, water source and management (borehole drilling, solar and reticulation of water/storage), labor for beneficiaries on site, mindset development activities. In order to protect the government investments of site and ensure continuity, we are present onsite as requested by OPM." Agromax said in a statement adding that
"Site/Land allocation and site selection was done on 17th July 2019- Consent for land for the project delayed due to various reasons mostly political interference from leaders. The site finally opened in April of 2020 amid insecurity (Land consent forms signed by community allocating land were provided, futile requests for security from IGP and UPDF also shared) Karamoja sub-region requires careful mindset and prepare them for the actual SBDI implementation – the adaptation takes time."
Agromax also contends with the district leadership that they have never taken any of the land where the Nabilatuk project sits.
"The land belongs to the people and they have issued land consent forms for this – copies available. We registered a CBO (Community Based Organization) which operates the site and mans the operations on SBDI. Politicians have previously tried to take this land but we have failed them and hence the interference. Woman MP Sylvia Awas' case of land encroachment on the project land was reported to authorities and the matter was put to rest. However, the political interference is still an issue" Agromax said in a statement.
Government has tried various answers to the Karamoja poverty question with many of them being vain. The government of Japan this month donated $7 Billion to Karamoja again and the jury is still out there if this time, the region will get out of poverty.