President Yoweri Kaguta Museveni has announced a total lockdown in the districts of Mubende and Kasanda effective immediately.
In a live televised address, Museveni said some Ebola victims were escaping from the district and in doing so spreading Ebola to other districts.
"Someone who had ebola left Mubende and went all the way to Kibuku"
The president has now banned movement to and from Mubende and Kasanda. Movement of public and private vehicles inside the district is also banned.
Museveni said the rationale for this ban on transport is because the transport sector is key in spreading the virus to areas where it hasn't been yet.
Cars driving through Mubende and Kasanda from Fort portal have also been ordered not to stop in the districts but instead just drive through.
"Don't stop, don't pick anybody, don't drop off anybody, get enough fuel prior to moving. Fill up enough fuel before moving through these districts" – Museveni said warning that anyone who spends a night in the two districts will have to spend the next 21 days in there.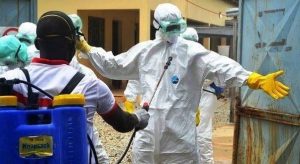 Only cargo trucks moving to Mubende and through Mubende and Kasanda will be allowed.
Museveni also suspended seasonal markets, ordered for the closure of all bars, nightclubs, and places of worship.
To further limit the spread of Ebola, Museveni also announced that all funerals will be handled by health workers and samples taken from all dead bodies to test for Ebola in Kasanda and Mubende.
Uganda declared an outbreak of Ebola in September and has since registered 58 confirmed cases and 19 deaths.
FOR MORE CLICK HERE