Dr Colleb Tumuguzu a Doctor on the frontlines treating Ebola patients in Mubende hospital contracted the deadly virus. He then battled the disease, watching his colleagues die off one after the other at one point calling his family and friends to say his last words. After 19 days in the isolation ward, he survived and spoke to me exclusively.
Thank you Doctor for speaking to us, So how did you contract Ebola?
I contracted ebola from a patient that I was treating, a girl.
That girl was brought to the accident and emergency and that girl had join pains, she had generalized body weakness, the mother was telling me she had drenching night sweats and then she had bloody diarrhea. All of those symptoms were for four days. Then I tried to asses, I did my general clinical assessment and found that the girl had moderate dehydration so I canulated the girl, I put maintenance fluid and some anti-biotics.
For me I didn't know that it was Ebola.
When I gave the treatment, around 6pm, that girl died. You know when you are treating a patient and that patient dies, you have to make a report it is done routinely.
So At this point had the outbreak been declared or not?
They had taken a sample from a 25-year-old man who was in another ward, the medical male ward. He had generalized body weakness and nasal bleeding.
So you suspected and took a sample right?
yes, and that guy had watery diarrhea, for him, he didn't have bloody diarrhea, he had watery diarrhea that was not relieved by any medication.
Had you checked for all these major diseases?
Yes of course, when a patient is brought to A&E you have to do a test for malaria as we are waiting for the Complete blood count to see if there was any other infection and it takes some time
When I got the CBC results for the child, the results showed me leukocytosis.
What is that?
High levels of leukocytes, Those are white blood cells. When they increase it indicates an infection in the blood. So for me I was treating it as an infection.
When they took a sample for Ebola from the other 25-year-old male, it took like 48 hours for the results to return.
So they were saying there was a case of hemorrhagic fever but they had not gotten the results so there was no worry about that.
So you kept monitoring and managing these symptoms as they came?
Yes, for the kid, unfortunately, I LOST THE KID, at around 6:00 O'clock is when the kid died and I made a report.
On Tuesday morning, I started getting the symptoms too. I was the first health worker to be isolated.
In the morning I also started getting the symptoms. I had high-grade fevers, my temperature was 40, I had general body weakness, and I had joint pains. The vomiting and loss of appetite had not yet come.
When you had these symptoms, the results of the patient were not yet back. Did you go back to work?
I went back to work, One of my colleagues took a sample for malaria, and they did a test for typhoid, a complete body count, and a urinalysis to check for UTI because it also causes high-grade fevers. All were negative, even the leucocytes were not high. All my results were okay. So I kept worrying.
I took some paracetamol which relieved a bit of the headache but the fevers were there.
So you work that day and did the symptoms get worse the following day?
The following day, I had drenching night sweats. But on that Wednesday evening results came back for the other patient. And you know when you get an outbreak everyone is in fear, we started worrying, we started measures.
I think because you knew that you had gotten in touch with these patients.
Yes, so everyone was in fear but for me, I didn't take it as seriously then because of the CBC, I thought it was an infection. I had very many patients that day so I could not think of the other kid I got in the morning to be the one I contracted the virus from so Wednesday morning everything was worse.
I had drenching night sweats, that Wednesday night, and the headache was not relieved by paracetamol, everything was not okay, I lost appetite, I could even not move well, and I had dizziness.
Did you still go back to work on that Wednesday?
Yes, because it was my week, I was on duty. I had to go back
But with a lot of difficulty, I think.
Absolutely, I could not tell my supervisors that I am sick, you know they caution us a lot.
Mostly those consultants, are always away and you have to come in and cover up so I had to go back and work. On Thursday, I started feeling too much dizziness, I could just stand and feel like someone who has postular hypertension. So now I started thinking about hydrating myself because I was sweating a lot. So my colleague put a cannula on me, I ran 2 liters of normal saline and I started feeling a bit, okay but I had lost appetite, however, I had no vomiting and I had no diarrhea and I had a normal pass-out of stool. On Thursday night, everything became worse so I called my colleague, the one who helped me put in the iv Fluids, Now he also contracted from me.
On Friday, I could not even walk, I could not move out of bed so Herbert called the surveillance team.
By Friday, the outbreak had been declared, is that the time when we were hearing health workers in Mubende were going on strike.
Yes, those people were the ones who brought all the problems to us
They would want us to work without any measure, they would not give us the PPEs and they would want us to go and work. So, you know in medicine, we are like the army, when your senior says you go you have no say. So, we were helped by those interns who refused and wrote a letter.
So that is when you heard that saga of interns being pushed by their seniors to go and work without any measure or protection.
So, On Friday, they brought the surveillance team, took me, and took a test sample from me for Ebola. by Morning, the results were out and I was positive.
That time, I was sweating with chills and rigors(shivering). I had spent like three days without eating. I was very hungry; the headache was too much.  Even the Intravenous paracetamol was not working.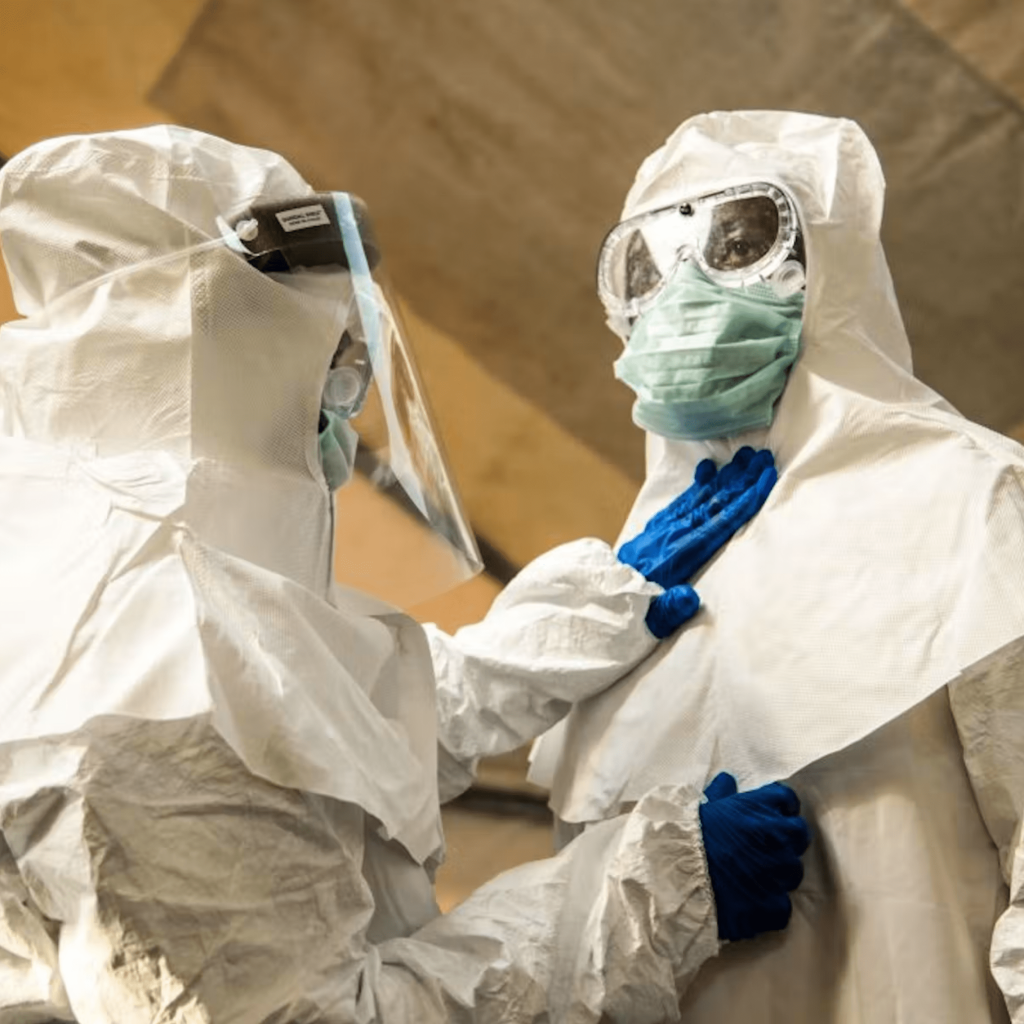 ALSO READ
So on Saturday, were you in the hospital, or were you still at home?
They took me to the hospital on Friday and retained me in the hospital. We have an emergency room for health workers.
They put me on IV paracetamol and I didn't have any relief. They tried to give me maintenance fluids because I was very dehydrated.
So after your result comes out positive, by that time were the PPEs in? Had they created the Ebola Treatment Unit?
Yes, they had created the ETU. But on Friday, the interns vacated the hospital. After that report, they left and the nurses took over and the doctors, the ones who had PPEs.
So they isolated me in the ETU, but I was mixed with other people. By that time we were 4.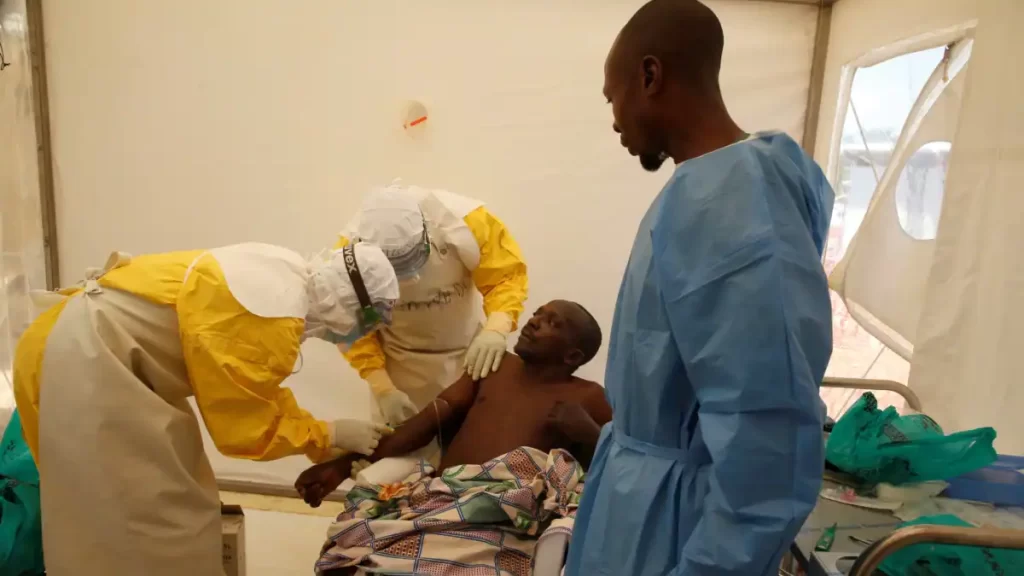 So how was life in the ETU, how did your symptoms progress, and what kind of other symptoms did you get?
In ETU, things became even worse. It was like a tent and they took me there in the evening, that day it had rained, the tent was cold, I had no appetite, they brought food I didn't eat. The headache increased, as with the sweating, and general body weakness, I could not even move to go to the toilet, I would just urinate in the bucket and defecate there.
So the health workers came in at around midnight, and they gave me some IV fluids, then IV paracetamol and fragile, 500ml.
By that time had the other medical workers joined you in the ETU or not?
They hadn't joined. They joined me on the following day then they separated us. They had constructed another tent and so they put us in that tent. They brought one intern and one surgeon Dr. Mohamad who died, When they brought them they were not comfortable with the place so they explained to the doctors who came in and that is when we moved to Fort Portal after them complaining.
It was on Sunday when they brought Dr. Mohamad and one of the Interns. Then on Monday, they had a meeting to transfer us from Mubende to Fort portal. When we reached there, they brought other three, Two surgeons and one anesthetist.
WATCH NOW
Just to take you back a little bit, when Dr. Mohamad died, what was the mood like in the ETU for you medical workers who knew him and had worked with him?
It was terrible. When Mohamad died, for me to tell you the truth because in the ETU of Fort portal, we were sleeping two people in one room so I was with him in the room, he got very severe symptoms of bloody diarrhea and vomiting of blood and you know as a health worker, you know when you are going to die, he told me very soon I am going to die.
And it didn't take even a day, it took like 8 hours, and it was around 3 in the night.
So you watched him pass on?
Yes, even the consultants were there they had come to do the ward round.
What about Sister Nabisubi?
Actually sister was very okay, the problem was that she had difficulty breathing, and she didn't have those symptoms. But she was a known hypertensive.
What do you think were the worst symptoms that you got?
For me the worst symptom I got was high-grade fevers and headache because for me I didn't vomit, and I didn't have diarrhea.
So how did they manage, those ones that had diarrhea?
 They could put them on fluids, and antibiotics
How severe is this diarrhea?
The other diarrhea was tough. The diarrhoea of ebola you can not even stop it and go to the toilet, they had pampers, That could wet the pamper within 1 hour, the pamper is already full so they could change the pamper every 1 hour.
You cannot stop the diarrhea of ebola. The sphincter muscles all relax because of the shivering there is no way you could stop, it comes direct.
So that means that place did not smell very nice?
Not at all, those people could come when the bedsheets and the blankets are all spoilt.
I actually thank those people of Fort portal, they are very well-trained. They tried their level best to keep it clean for example after like every 30 minutes the pamper is full.
That means that in a day someone could pass stool about 40 times
When I got relieved I started helping my colleague because I knew he could not re-infect me it is very rare for re-infection to occur.
I would change every 30 minutes because he was severely ill, he could not even rotate in the bed so to avoid those pressure sores and bed sores I was the one to change him and put another pamper so within 30 minutes I would change the pamper so that he would not get the pressure sores.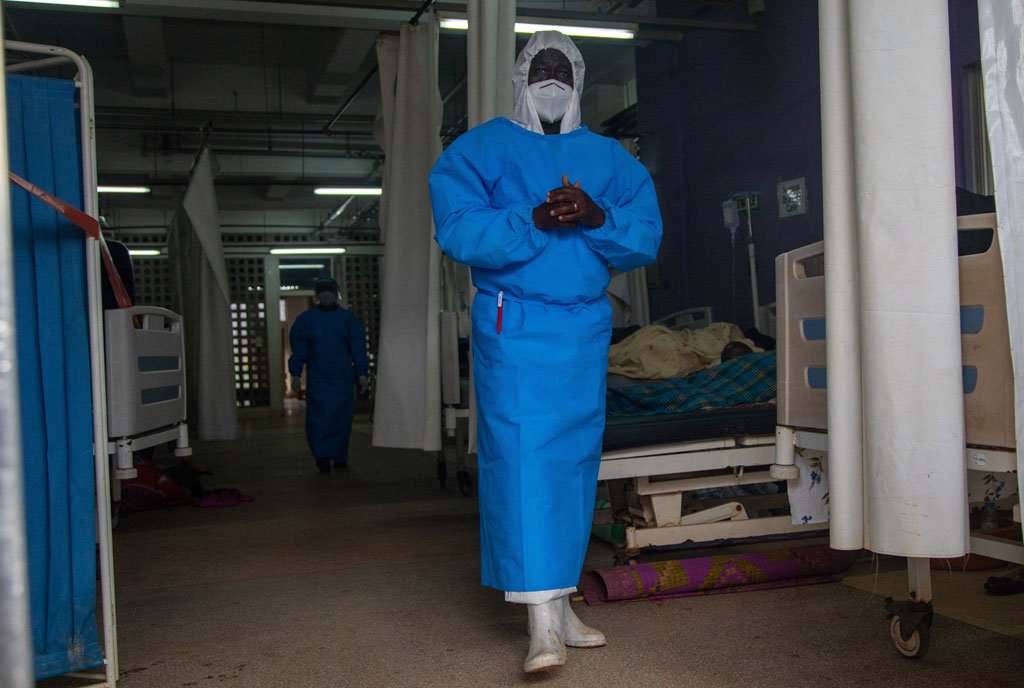 What about eating, how did it affect the appetite?
 When you see food you would feel like vomiting so it was better you don't smell it.
But you had to eat somehow right?
Yes they would force us, you eat some. Eat and vomit repeatedly.
Like after 6 days is when they brought this antiviral, Remdesivir.
Is that the medicine that they imported?
For those who were severely ill, they had 5 doses, for me who was improving I had 2 doses. Because it affects the renal system, they had to always check the renal function tests. It is very good but it's excretion from the body affects the renal system.
So at what point did you learn that you were now negative?
 After like, 3 days without symptoms and they see you are fairly alert they take a sample.
So how many days did you spend positive?
19 days
They took the first sample on the 20th day and I was negative, then I spent other 3 days, they took another sample and the results were also negative.
But they told me to wait for my colleagues because I was the first person to test negative. The ministry came in and that is when they took me to Entebbe Grade B hospital.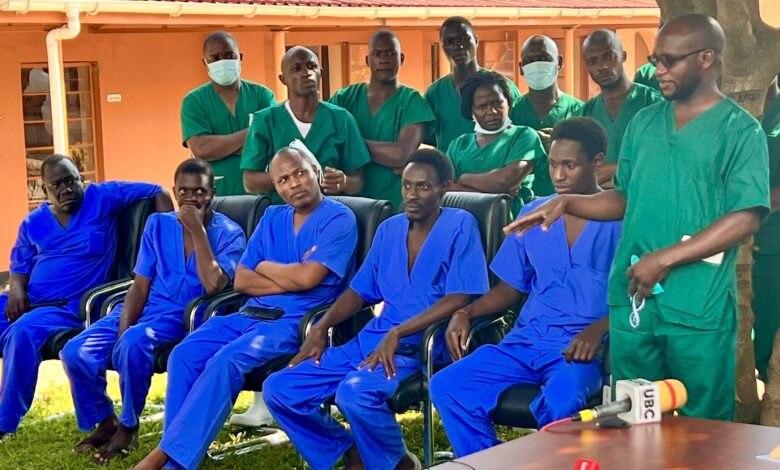 I Know that you are doctor and you have seen patients die but did you ever fear for your life when you had ebola, what thoughts did you have?
Yes, of course as a person I thought I WAS the next person. When Mohamad died, they brought sister Nabisubi into my room because I was improving so I would help them in case of anything like in the middle of the night for these people who were severely il and I would monitor the vitals and put them on oxygen. That is why she was brought into my room after the death of the surgeon. I felt bad, I felt isolated. I called my mum and tried to explain.
What did you tell your family?
I told them just pray, If I come back we shall testify, if I don't come back that's what God has decided because you could see death just near you just there.
I told my friends and colleagues, some I called others I put on my WhatsApp status Whomever I did bad, just forgive me and I rest in peace.
Actually, after Nabisubi's death symptoms came back because of the fear and the stress. You know when the stress comes in, the immunity is reduced. The symptoms that had gone came in like headache and fevers.
How did this treat your family?
 They were stressed as a family.
For those who I knew when they call me they would start crying, I would not pick.
What about Stigma?
 My life is okay, now that they have seen me. The first day, they were scared, they were not scared of me infecting them with Ebola, but they were scared as if they were seeing a ghost because they knew I would not come back. Because for them they think when you get ebola, the fatality rate is 100%.
Right now, what are you most thankful for?
I thank God. He is the one who manages everything, I thank my colleagues who tried to save our lives. They gave us the best medical care at least everyone could get.
I thank my friends who tried to give me everything I need. I would just call and they would bring.
The ministry also tried, I also thank the ministry of health, though It came in late and you know we shall not always blame it so much.
So are you going to go back to work?
Yes, but they have closed, they have put a lockdown.
So you are actually willing to go back and treat Ebola patients?
Yes, next week actually we are going back but they have told us that we can wait for 21 days. For the survivors, they said we are free to stay at home for 21 days.
So aren't you scared of the disease that almost killed you?
I am not, because I know that after becoming a survivor I am not scared, even if I touch a patient now. Of course, I protect myself but now I am more protected than these people whose bodies are naïve to Ebola.
What I can add is that fear after they diagnose you with Ebola. For me, I think that is the one that kills fast before even other symptoms come and kill you.