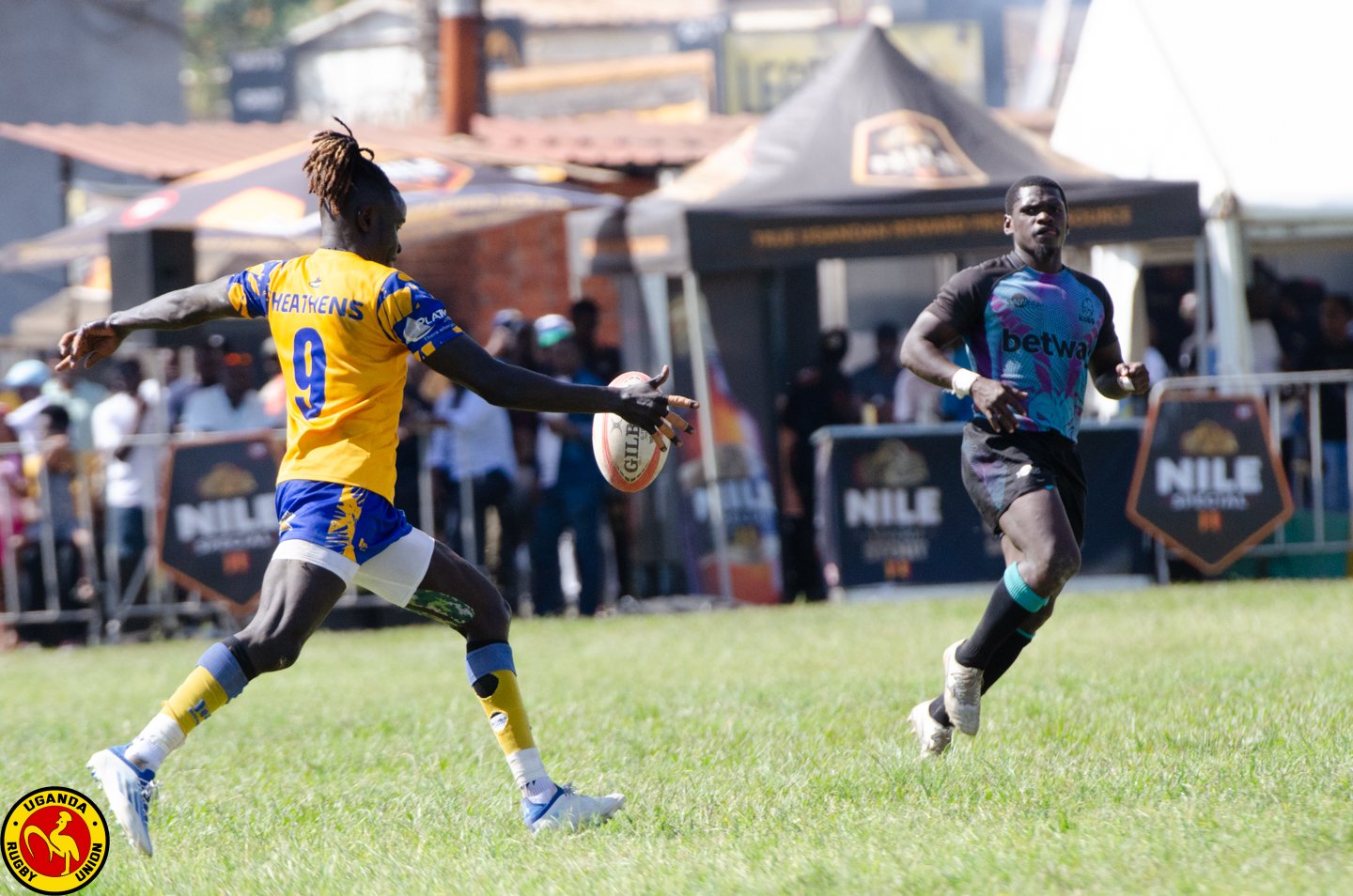 The meetings of Heathens and Kobs Rugby Club have never less interesting to the fans of the game.
Heathens who are the current the Nile Special Rugby Premier League defending champions scooped a late winner through skipper Aaron Ofoyrowth's controversial drop ball in the last added minutes of the game in an intense contest at Legends in Kampala at the weekend.
These teams share 30 championships,16 titles for the Heathens and they are defending champions while 14 titles for the Kobs Rugby Club.
The blue Army dominated the first stanza of the game as the main man Joseph Aredo put his side in the lead by converting 4 penalties earning 12 points and Heathen's Ofoyrowth converted 2 penalties making it 6 points
The first half of the game ended 12-06 in favor of the home side.
With just 10 minutes to an hour mark, the visitors made the first try in the game making it 11 points and 1 point behind to level the game.
The 2022 rugby player of the year, Adrian Kasito of Kobs put up an excellent display going passed the Heathens defense, unfortunately, his would-be try was denied by the referee leaving the Kobs fans frustrated.
The heathens went into the lead for the first time in the game after converting penalties making it 14-12 in their favor
With few minutes to added time, the hosts got a penalty and Joseph Aredo couldn't take this chance for granted but rather convert it and put his side back in the lead making it 15-12.
With just seconds to the final whistle, Heathen's star player Aaron Ofoyrowth put the final nail in the coffin by making a surprise controversial drop kick equivalent to 3 points making it 17 points for the kyadondo-based side.
"I want to thank God for this amazing win, it's not been an easy one but God has made it for us. Their(Kobs) main aim was not to make tries but rather force us to make fouls and get penalties that's why they managed to convert 5 penalties out of our mistakes. The fans have been amazing and I dedicate this win to them." Heathens Captain Michael Wokorach speaking to News247 after the game.
FULL-TIME
Kobs Rugby Club 15-17 Heathens Rugby Club
Results else where in the Nile Special Rugby League Matchday 3 on 28th January 2023
Mongers 13-15 Impis
Rams 03-03 Rhinos
Hippos 08-17 Pirates
Buffaloes 25-13 Walukuba