On 31st March 2022, a concerned citizen took to his twitter posting images of a dumping site in Entebbe where medical waste had been dumped. The photo caught our eye and we took to the road to investigate this photo and get to the bottom of what could be an environmental crime happening just a few meters away from Lake Victoria.
On reaching the area in Entebbe which we got to learn is called Nkumba Bukolwa, we found the waste still lying there and whereas we can illustrate the scale of this dump, we cannot illustrate the stench here, a waste dump right in the middle of a residential area.
The locals we speak to here complain of the awful stench coming out of this landfill.
"An awful stench comes from down there to this side. It is so bad that you may feel like throwing up We can not stop our children from going there. You sometimes find them down at the at the dump site picking bottles to play with" one local said.

"the rubbish smells very bad, and the roads to get to the landfill are also very bad." Another gentleman adds on.
But the stench is the least of their worries as we soon find hazardous medical waste lying out in the open here, the landfill has everything from used gloves, to cotton, to bottles of used medicine, syringes, sanitary pads, test kits and even blood.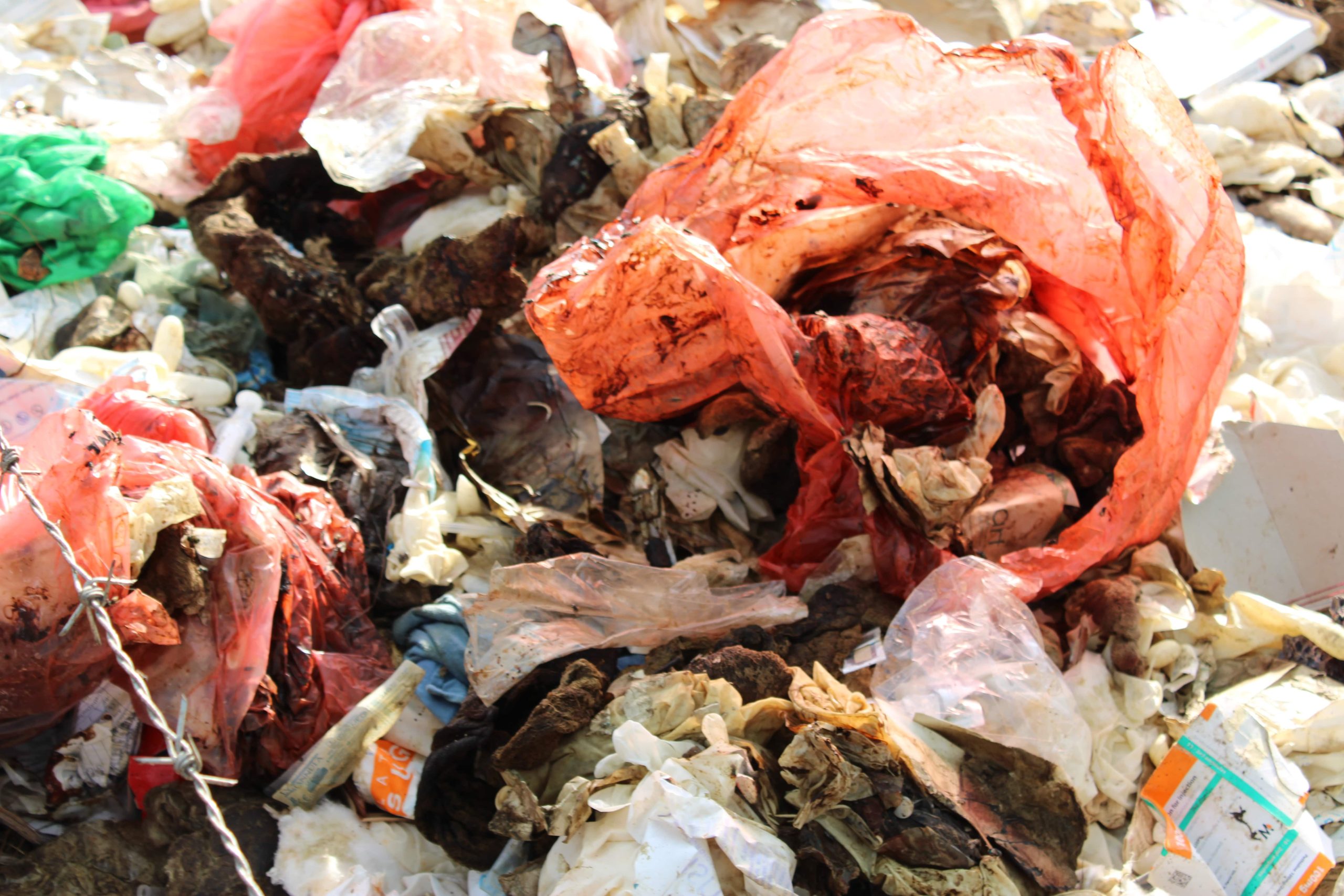 "we sometimes find placentas in the rubbish. We find a lot of medical waste here and blood stained items packed in polythene bags." Says one of the lady we find sifting through the waste. 
She further adds on, "this place being adjacent to residential homes, children are mostly like to be found playing with some of the items they pick up from the open waste which is dangerous to their lives"
In Nkumba, we also find used COVID 19 Personal Protective equipment(PPE) lying there in the open landfill.
According to the NATIONAL ENVIRONMENT (WASTE MANAGEMENT) REGULATIONS of 2020, A person who generates healthcare waste shall categorize the waste as hazardous or non-hazardous waste.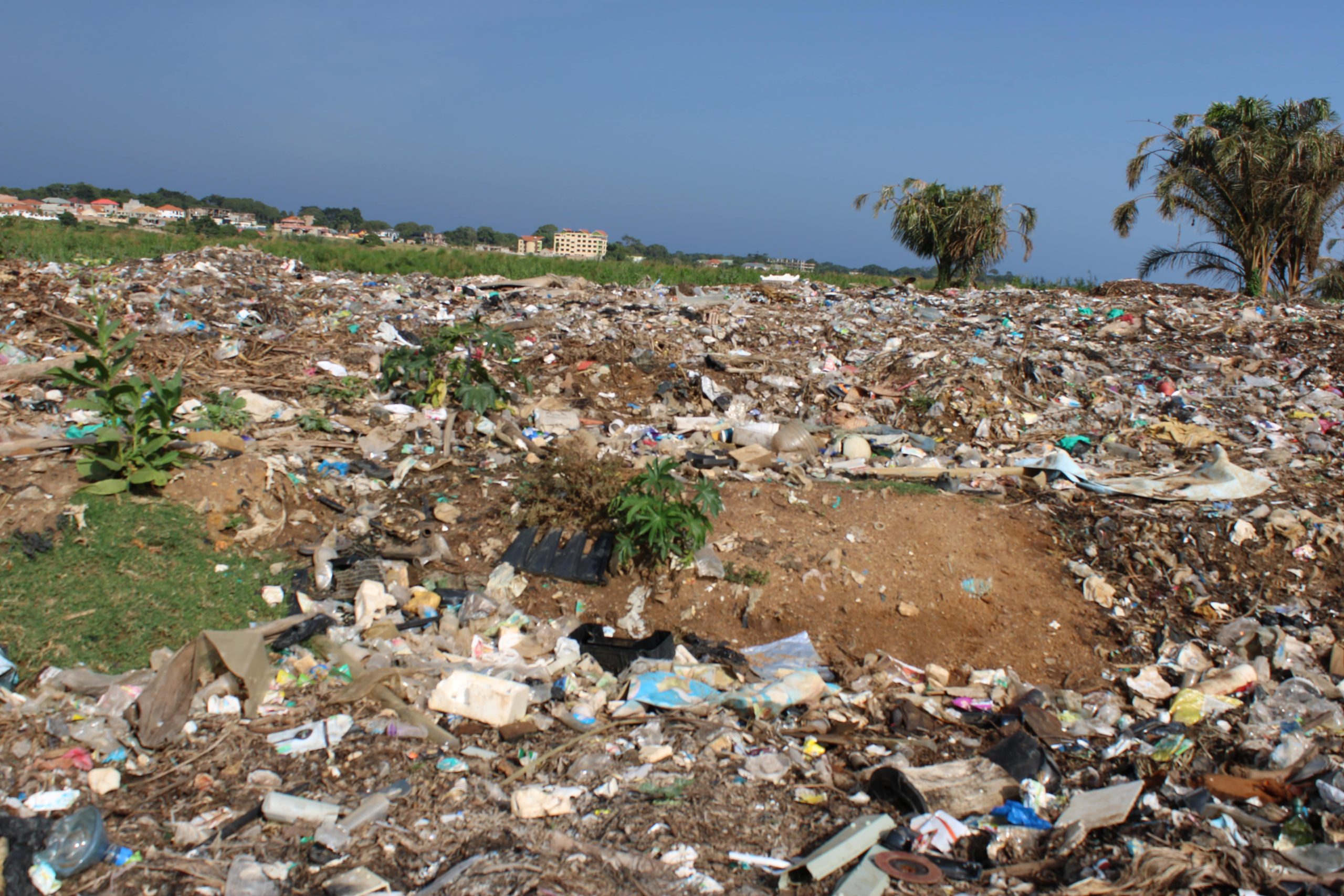 Hazardous healthcare waste includes
sharps waste, including needles, hypodermic needles,
scalpels, blades, knives and infusions;
infectious waste, including waste contaminated with blood and other body fluids, cultures and stocks of infectious agents from laboratory work and waste from infected patients in isolation wards;
pathological waste, including waste consisting of tissues, organs, body parts, blood, body fluids and other waste from surgery and autopsies on deceased persons with infectious diseases;
pharmaceutical waste, including cytotoxic and genotoxic waste and expired, unused, split and contaminated pharmaceutical products;
The law also states that a person who generates healthcare waste and a waste handler authorized to manage healthcare waste shall ensure that the waste is managed in a manner that does not cause harm to human health or the environment and is segregated and handled differently. Key among the reasons NEMA puts out for segregating this waste is to prevent infectious healthcare harming human health, the environment or transmission of infections.
The law further prohibits infectious healthcare waste, non-biodegradable plastics, polythene bags, tyres and glass from being dumped at landfills such as this. We found used cotton, surgical gloves, sanitary pads and other material used in hospitals dumped all over this landfill. It is however clear for us that these categories of waste make up the largest percentage of items dumped here.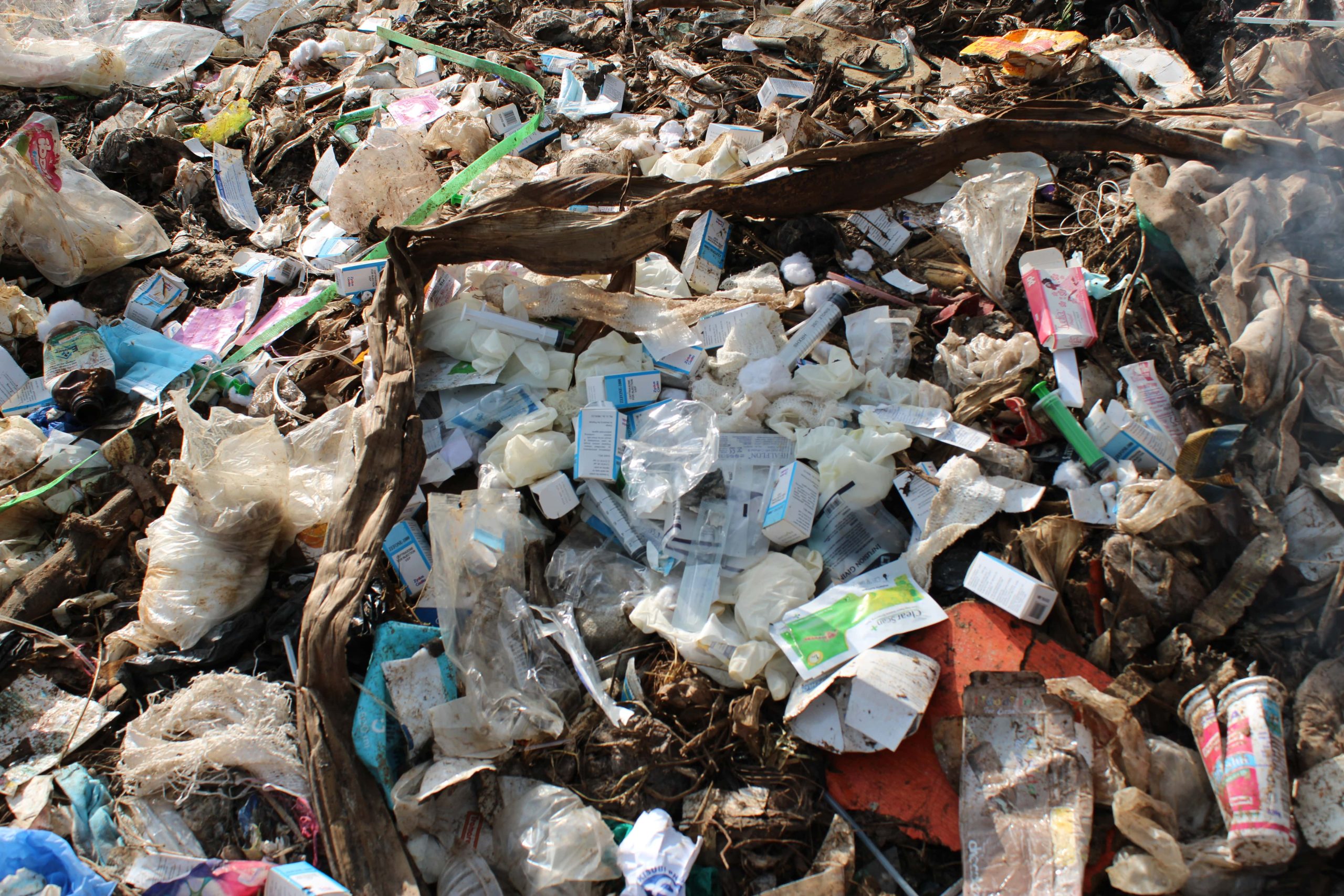 And whereas the law also prohibits setting up landfills next to waterbodies, this one is literally on the shores of Lake Victoria, the source of water for the people living here. It is also just feet away from a residential area, some of the waste is dropped along the main access road here.
Due to the dumping site's proximity to the residential areas, some residents have decided to use the opportunity to make cash out of the trash.
"Medical waste is put at the same dumping site and buried underground. They put it down there. We also work from down there amidst the waste. Sometimes they just bring the medical waste and drop it on the surface. So we sometimes mobilize ourselves as collectors who work in this site and bury the medical waste on our own. It is not the best job, we do it because of unemployment. We just stay alert and keep ourselves safe from the medical waste." said a local who is a regular collector from the dumping site.
We found locals sifting through the trash in search of scrap metal, old plastic bottles that they sell to recycling companies. But as they wade through this landfill, they are oblivious of the fact that the medical waste they touch with their bare hands could be potentially deadly.
"You will find some people dropping bottles. An old woman was recently cut by an old bottle and there is no medical center nearby. Medical waste is just dumped irresponsibly here, even sharp needles and other sharp objects so sometimes they pierce us.  They should find another place to dump this medical waste but not here in the open."
We steaked out at the dumping site for a day hoping to find which trucks dump their rubbish here and after hours of waiting, this truck arrives with stickers of waste disposing company BINS.
The workers on the truck then start offloading the waste from the truck into the dumping site. We call the phone number on this truck and a lady on the other end of the line introduces us to BINS. BINs say they handle only domestic and hazardous waste, never medical waste. 
We ask how they dispose of the waste and she says they treat it and completely destroy it. However, here we are with their truck in the middle of the Nkumba Bukolwa landfill with hazardous material being dropped on the ground.
BINS confirmed to us that they indeed work in Entebbe. Environmentalist Robert Turyahika says this problem does not only affect the people of Nkumba but is a greater issue for the whole Lake Victoria eco system.
"Once the lake is polluted, then the ecosystem is destroyed. We know that the organisms that live in the lake's waters need oxygen and with this pollution, the organisms are dying. We have some reports about fish dying in lake Victoria all of a sudden."
This google map shows you an aerial view of the dumping site right next to Lake Victoria. In recent decades 50 Million people have settled on the shores of lake victoria and that number is projected to double in the next 30 years. Riding by boat on Lake victoria now, one can see the color of the water changing, no longer the clear water in the middle of the lake but a dark green something that worries scientists about the future of Africa's largest lake.
Environmental crime
The waste keeps accumulating day by day hence encroaching on the water body nearby thus decreasing the water levels. This messes up the ecosystem because water bodies play a major role in the rain cycle. This is also a fresh water body meaning the water is used for consumption and activities like fishing take place. So if the water is contaminated, it could cause disease to those that consume it.
The wastes that are dumped into the water body tend to have toxic substances, which soak in all the lake oxygen. This leads to a marked depletion of oxygen available to mammals and other fishes causing them to die in their natural habitat.
The effects of water pollution are not only devastating to people but also to animals, fish, and birds. Polluted water is unsuitable for drinking, recreation, agriculture, and industry. It diminishes the aesthetic quality of lakes and rivers. More seriously, contaminated water destroys aquatic life and reduces its reproductive ability. Eventually, it is a hazard to human health. Nobody can escape the effects of water pollution.
WATCH NOW