In pure Joseph Chameleon fashion, he filled up Lugogo cricket oval with his Gwanga mujje concert.
The legend of Ugandan music Chameleon performed all his age old bangers like dolotia , kipepewo, shida za dunia, Jamila among others.
However one of the scenes the musician pulled off while performing the 2000s hit song Bomboclat with his brother Weasel has sent Ugandans on social media talking. The trouble stirring scene saw Chameleon walking up to his brother mid-peeformeance and landing a kiss on his lips leaving many fans shocked.
"I don't know whether it was by mistake but I was shocked to see Chameleon kissing his brother, it looked wrong" said Edirisa Kafeero, one of the revellers who attended the concert
Since the concert last night, social media has been abuzz with fans expressing their disdain with Chameleon and Weasel's smooches on stage.
Not the first time!
This is not the first time that the Mayanja brothers are kissing in public.
During a concert in Bujumbura, Burundi where the two brothers were performing in May 2022, the two kissed.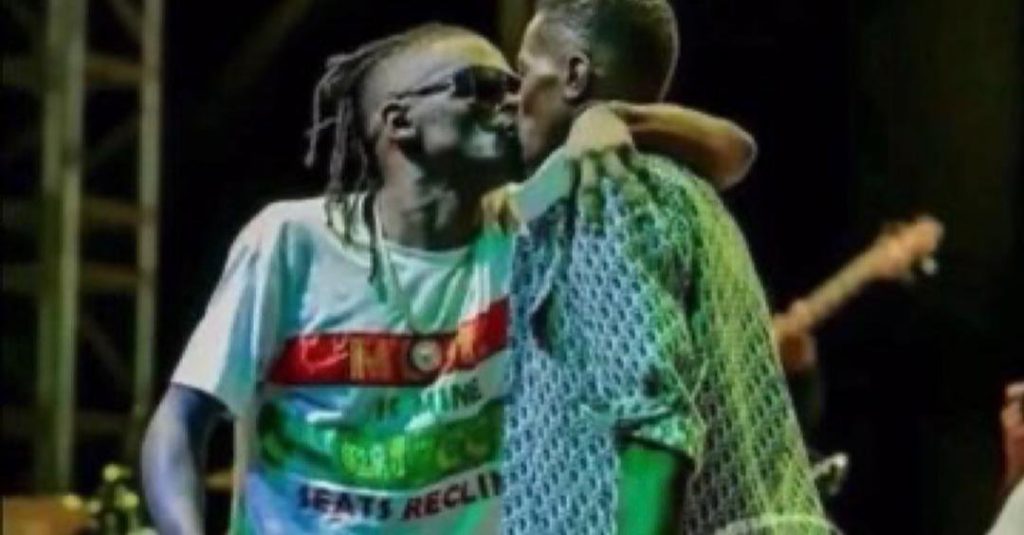 Weasel posted the picture of him and his brother Chameleone kissing on the lips on stage in front of an excited audience and captioned it "FOREVER AND EVER"
In November 2016, during a concert in Kampala, Chameleon walked onto the stage and kissed his brother Weasel to which the crowd got wild.

In March 2022, an image circulated of Weasel quickly stealing a kiss from his other brother Pius Mayanja aka Pallaso.
Some fans accuse Chameleon of pushing the LGBTQI Agenda.